The 2015 Ford Mustang has been officially revealed. The all-new pony is likely to go on sale locally in early 2015 (the first time ever in Australia), with US customers receiving orders in the later part of 2014. The new Mustang reveals quite a few firsts in technology, and in the engine department.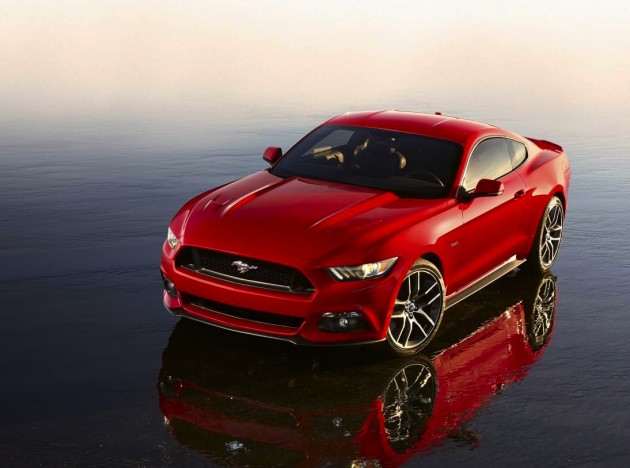 The Mustang will come with three engine choices – a 3.7-litre V6 making 220kW and 366Nm, a 5.0-litre V8 producing 313kW and 529Nm (Mustang GT), and for the very first time in a Mustang, a four-cylinder engine, a 2.3-litre EcoBoost power plant pumping out 227kW and 407Nm, with only the EcoBoost and V8 choices set to make their way to Australian shores.
Six-speed manual comes standard across all models, with the option of a six-speed automatic featuring steering wheel-mounted shift paddles. Mustang GT models will feature launch control as standard.
For the very first time, the Mustang will feature an all-new integral-link independent rear suspension; the springs, dampers, bushings, geometry, and new aluminium knuckles aim to provide improved ride and handling performance over the previous generation Mustang. The front features a double-ball-joint MacPherson strut system that's been designed with big brakes in mind.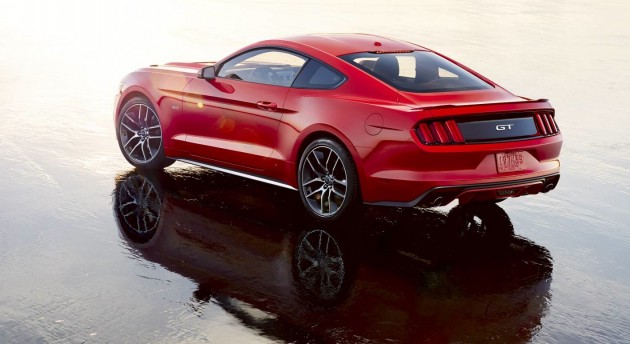 New innovations for the Mustang include push-button start, Blind Spot Information System with cross traffic alert, and adaptive cruise control. To help personalise the feel of each Mustang, drivers can scout through selectable drive modes to adjust steering effort, engine and transmission response, and stability control settings by tapping a toggle switch located on the console.
One of the biggest changes to the Mustang is the way it looks. While it does its best to maintain the visual integrity of the original (like each model does), it certainly is the most modern take to date. The new model is lower, wider, with a more steeply sloped windscreen and rear window than the model it replaces.
The iconic long bonnet and short rear end, bulbous haunches, blended with modern-looking front and rear lights and the new Aston Martin-esque grille, give the famous car strong visual presence. The Mustang will be available in both fastback and convertible form.
April 2014 marks the 50th anniversary of the iconic Mustang. Each new model will wear a galloping pony badge on the instrument panel with the words "Mustang – Since 1964".
Pricing for the 2015 Mustang is yet to be revealed.
Below is a video released by Ford detailing the all-new Mustang.