MINI Australia is excited to announce its full range of vehicles are now available in high performance John Cooper Works form. This includes all seven of its current models; the Cooper, Coupe, Clubman, Cabriolet, Roadster, Paceman, and Countryman.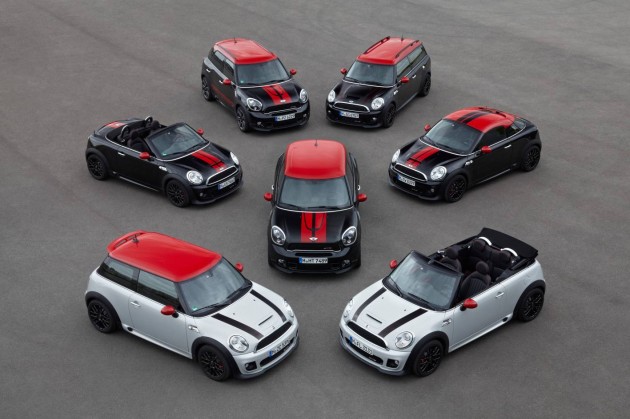 The Australian market has the highest sales of JCW MINIs, per capita, in the world. So it comes as no surprise the entire lineup is available in the sporty tune. Kai Bruesewitz, MINI Australia's general manager, recently said,
"Australian motorists just love a great performance car… Now, with a JCW variant available on every MINI model, our customers will be spoiled for choice."
For all JCW models, each car comes with a bespoke set of sporty details inside and out. With a bodykit, spoilers, larger alloy wheels, racing stripes, and unique JCW badges, the models take the already athletic MINI foundations and turns them up a notch.
All models also come with sports suspension, sports brakes, and in some cases, a sports differential. Equipped with a six-speed manual transmission as standard, they are all regarded as great driver's cars.
As for the power, almost every model comes with a tuned version of MINI's 1.6-litre turbo four-cylinder. Outputs span from 155kW and 260Nm (280Nm on overboost) for the two-wheel drive versions (aside from the GP II edition), while the all-wheel drive Paceman and Countryman, and the limited edition GP II, produce 160kW and 280Nm (300Nm on over boost).
Pricing for the complete range is as follows (excluding on-road costs).
Those interested in the GP edition will need to get in fast, as there are only 55 being introduced in Australia.
MINI JCW – $50,400
MINI JCW Clubman – $51,800
MINI JCW Coupe – $52,600
MINI JCW Roadster – $55,100
MINI JCW Cabrio – $58,500
MINI JCW Countryman ALL4 – $56,800
MINI JCW Paceman ALL4 – $58,600
MINI JCW GPII – $56,900