Jeep has all but officially confirmed a Grand Cherokee Trackhawk, however, CEO Mike Manley has and the company was found to have trademarked the name. Until now it was thought it would use a rear-wheel drive system but this might not be the case.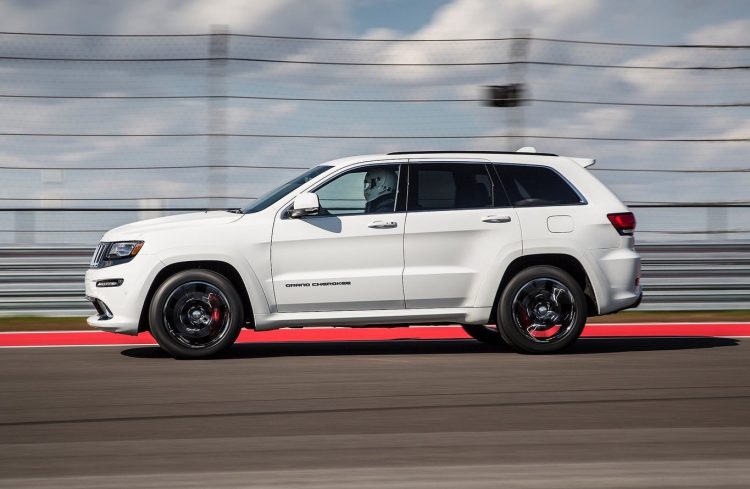 According to rumours the Grand Cherokee Trackhawk will in fact be all-wheel drive. It's understood the company is currently tossing up between possible drivetrain options that might be able to cope with the huge demands of the 6.2-litre supercharged V8 Hellcat engine.
In the Dodge Charger and Challenger Hellcat, the V8 bends the laws of physics by generating 527kW of power and 880Nm of torque. This, apparently, is too excessive for the standard four-wheel drive system that's featured in the Grand Cherokee SRT with the 6.4 HEMI.
Word has it Jeep is developing a bespoke running gear for the Trackhawk version that uses torque-vectoring technology. Such technology could be used to make the most of all that torque by continuously calculating and monitoring the drive, and sending torque to the outside wheels to aid cornering. There's also speak of Australia's Walkinshaw Performance assisting with developing the system, although this is yet to be confirmed.
With a trick all-wheel drive running gear and, potentially, 527kW on board – although it could be detuned somewhat for the SUV – the Trackhawk may become one of the industry's quickest SUVs on the market. Acceleration from 0-60mph (97km/h) in the rear-wheel drive Charger Hellcat is rated at a claimed 3.4 seconds. With the added traction of all-wheel drive, even with extra weight and aero drag, the SUV version could provide similar figures.
Jeep is said to be planning a launch for the Grand Cherokee Trackhawk for late in 2017. It's unknown at this stage if it will ever make it to Australia via the official local arm, however, if Walkinshaw ends up being involved we'd be betting it will be heading our way.