An image of a blanketed BMW X7 has surfaced online, stemming from documents handed out during BMW's annual press conference.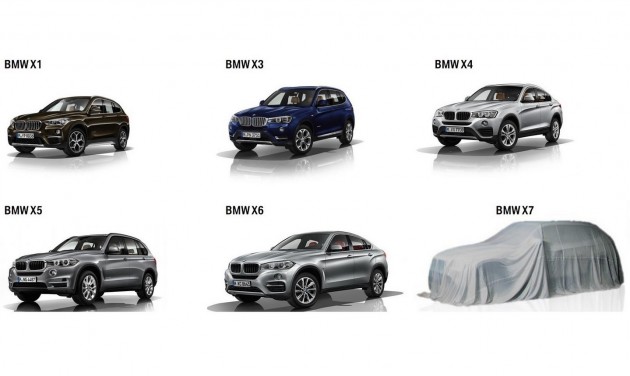 There isn't much to see in the image given that it shows an SUV covered beneath a sheet. However, you can see some of the details in the front end, and make out the overall silhouette of the large SUV.
BMW is likely to use its current range of SUVs for the styling direction of the all-new X7, with pronounced centre grilles in the front, a long bonnet carrying some traditional sports car cues, and a set of amplified wheel arches accentuating its stance.
The X7 will be BMW's largest SUV, sitting above the X5. It's expected to be quite a step up from the X5's dimensions, providing a lot more cabin space for at least seven passengers.
While rival company Mercedes-Benz has been offering the seven-seat GL-Class for some time, now called the GLS, BMW is yet to offer something for the extra-large SUV segment. The current X5 is available with optional third-row seating but it has never really been regarded as a proper seven-seat vehicle.
Underneath the X7 is set to be BMW's next-generation CLAR platform (cluster architecture) which debuted on the new 7 Series. The platform will be used for a number of future-generation models in the showroom, blending high-tensile steel, aluminium and carbon fibre for ultimate lightness and stiffness.
Like the 7 Series, the X7 will be a seriously luxurious vehicle, offering all kinds of pampering features and automated gizmos. There's speak of a high-end variant joining the range later on too, bringing Rolls-Royce-like comfort and attention to detail.
BMW has confirmed it will be introducing the X7 before 2020. At least one concept version will probably debut between now and then while the company fine-tunes the design and technology.