BMW Australia has announced new option packages for the 2015 5 Series, presenting buyers with a potential increase in value across the board.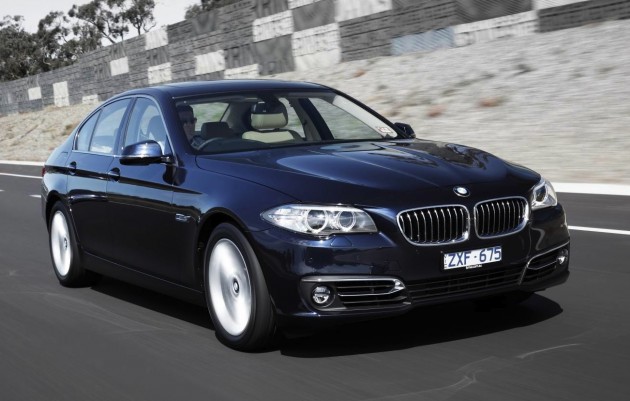 Two main option packages are added to the lineup, including the Professional and Exclusive option packs. The Professional can be had on the 520i, 520d, and 528i, while the Exclusive is for the 535i, 535d, and ActiveHybrid 5.
Starting with the Professional package, prices span from $900 to $3400, although the value of the options in the packages range from $5900 to $12,700. This gives buyers the opportunity to access features that are usually only offered on higher end models.
As for the Exclusive package, it's priced evenly at $3800 across the upper range. The value of the kit spans from $12,200 to $16,300. It showcases a wide variety of advanced technologies and equipment. Shawn Ticehurst, head of product and market planning at BMW Australia, said,
"Over its history, the 5 Series has marked the intersection where BMW luxury, driving dynamics, and technological advances meet. This is reinforced with the development of our Professional and Exclusive options packages."
These new options come as BMW Australia phases out the range-topping 550i variant. Those interested in V8 performance can still go for the mighty M5. See below for equipment and prices for each respective option package;
Professional package
2015 BMW 520i, 520d Sedan and Touring ($12,700 value): $3400
Head-Up Display
Comfort Access System
Automatic dipping interior and door mirrors
Lane Change Warning System
ConnectedDrive Freedom
Driving Assistant
Surround View
Digital Radio
Multifunctional instrument display
2015 BMW 520d Gran Turismo ($7900 value): $2400
Head-Up Display
Comfort Access System
Automatic dipping interior and door mirrors
Lane Change Warning System
ConnectedDrive Freedom
Surround View
Digital Radio
Multifunctional instrument display
2015 BMW 528i Sedan ($5900 value): $900
Lane Change Warning System
ConnectedDrive Freedom
Driving Assistant Plus
Multifunctional instrument display
Seat heating
Exclusive package
2015 BMW 535i, 535d Sedan and ActiveHybrid 5 ($16,300 value): $3800
Automatic tailgate operation
BMW Individual instrument panel in leather
Exclusive 'Nappa' leather upholstery
Soft-close function for doors
Sunblinds for rear and rear side windows
Comfort seats incl. active headrests and electrical adjustment
Driving Assistant Plus
Seat heating
Lane Change Warning System
ConnectedDrive Freedom
BMW 530d Gran Turismo ($15,900 value): $3800
BMW Individual instrument panel in leather
Exclusive 'Nappa' leather upholstery
Soft-close function for doors
Comfort seats incl. active headrests and electrical adjustment
Driving Assistant Plus
Seat heating
Lane Change Warning System
ConnectedDrive Freedom
BMW 535i Touring ($13,500 value): $3800
BMW Individual instrument panel in leather
Exclusive 'Nappa' leather upholstery
Soft-close function for doors
Comfort seats incl. active headrests and electrical adjustment
Driving Assistant Plus
Seat heating
Lane Change Warning System
ConnectedDrive Freedom
BMW 535i Gran Turismo ($12,200 value): $3800
BMW Individual instrument panel in leather
Exclusive 'Nappa' leather upholstery
Soft-close function for doors
Comfort seats incl. active headrests and electrical adjustment
Driving Assistant Plus
Seat heating
Lane Change Warning System
ConnectedDrive Freedom