There's a new convertible supercar in town, called the McLaren 570S Spider. It is, as you might have expected, the drop-top version of the flagship Sports Series model.
McLaren says the 570S Spider combines the "exceptional dynamism and refinement" of the 570S Coupe with the extra exhilaration of open-air motoring. It joins the 540C and the 570S coupes in the thriving Sports Series showroom family, making this 570S Spider the most accessible drop-top McLaren on the market.
Interestingly, McLaren says there are no performance compromises with the Spider versus the Coupe, with the Spider offering the same pace and dynamic ability. Underneath it all is McLaren's Monocage II chassis made from carbon fibre, with no reduction in strength or stiffness, according to the company. There has been no additional reinforcements made either.
As for the roof, it's an electronically operated tonneau unit, and can be open and closed in just 15 seconds at speeds up to 40km/h. It also comes with a glazed wind deflector that can be raised or lowered at the touch of a button, and the roof uses soft-close technology for smoothness.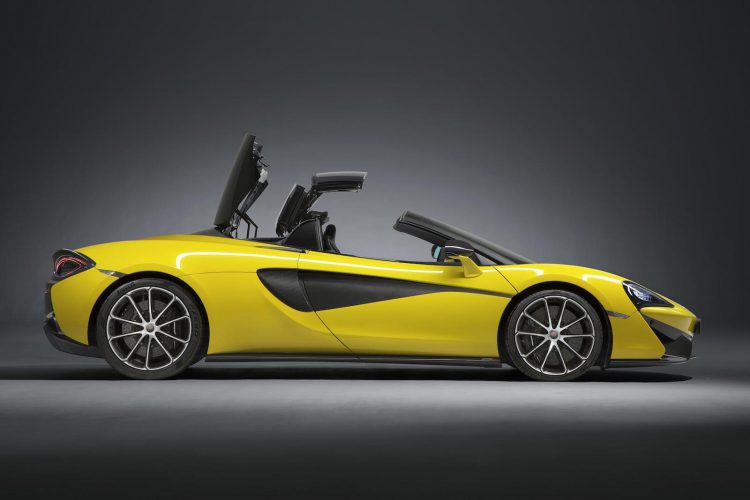 In the back is the same 3.8-litre twin-turbo V8 as seen in the regular coupe, producing 420kW (570PS) at 7500rpm, and 600Nm through 5000rpm and 6500rpm. It's matched to a seven-speed dual-clutch automatic with rear-wheel drive. The 0-100km/h sprint takes just 3.2 seconds (same as coupe) and 0-200km/h comes up in 9.6 seconds.
As with all new McLarens customers can tailor the car in various trim and colour options, and have unique components fitted to really separate their order from any other. There's 20 different standard colours to choose from, including three new colours specially made for the Spider: Curacao Blue, Vega Blue, and Sicilian Yellow.
Its first public showing will take place at the Goodwood Festival of Speed from June 29, with first customer deliveries scheduled for August.
UPDATE: McLaren's Asia Pacific division has confirmed the new model will be priced from AU$435,750 (excluding on-roads), arriving from Q4 of 2017.