A McLaren MP4-12C has spontaneously combusted in London, leaving nothing but a burnt out wreck. Images of the British supercar up in flames have just appeared online.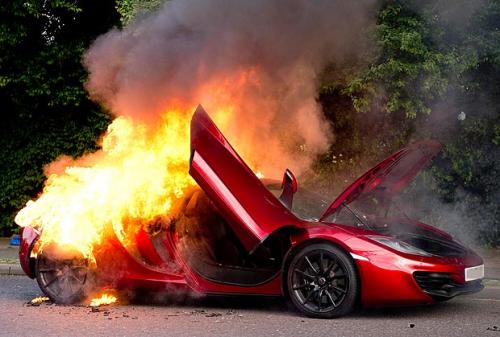 This sort of thing is usually only associated with Italian supercars, but it seems the Brits know how to build a combustible supercar as well. Some may even say the fire actually authenticates the MP4-12C as a true supercar.
Joking aside though, the owner of the car was able to escape before the flames engulfed the cabin.
It's unknown how the fire started at this stage. As with other supercars that have spontaneously caught fire in the recent past, including the Ferrari 458 and the Lamborghini Gallardo, the fire has been caused by a slight manufacturing defect, resulting in recalls being issued.
As you can see by the aftermath below, the 3.8-litre twin-turbo V8 is completely torched, with a mere frame and some of the front end left behind.