BMW Australia has announced details and pricing for the new 2014 BMW M5 model update. And the highlight of it all is the Australian market gets the otherwise optional Competition Package as part of the standard kit.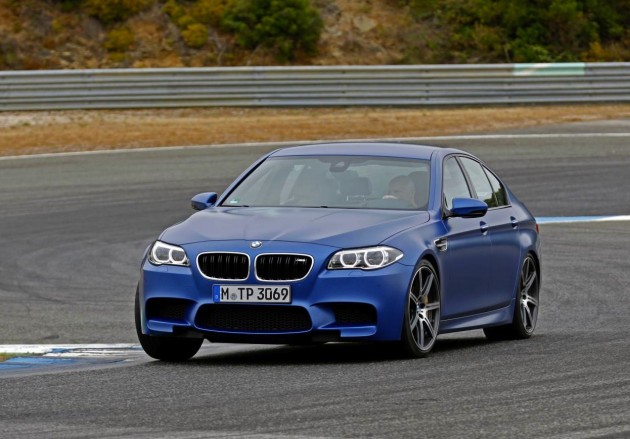 The facelifted 5 Series was only revealed a couple of months ago, with restyled headlights, some changes to the rear bumper bar, and some technology updates inside.
As for the new M5, it comes with a revised interior with more tech as well, improved handling and more focused suspension, and some minor styling tweaks for a fresher look.
Most of the powertrain remains untouched for the update, except for the inclusion of the Competition pack. This sees power from the 4.4-litre twin-turbo V8 boosted from 412kW to 423kW, helping the luxury sedan accelerate from 0-100km/h in just 4.2 seconds (0.1 seconds quicker).
The Comp pack also comes with revised suspension, with retuned dampers and new springs lowering the car by 10mm. Stabiliser bars are also more rigid, while the Active M Differential and sports steering are tweaked to provide even more precision, agility, and dynamic handling.
Soft-close doors now come standard, as does an automatic electric opening boot which can open via your foot being waved under the rear of the car. The other main update is the iDrive multimedia interface, which now features a touch sensitive controller.
Best yet, all of this is now available for $100 less than the outgoing model. New prices kick off at $229,900, with deliveries commencing during mid-September.