According to CAR magazine in the UK, this is the first official image of the 2014 BMW M3. Set to be unveiled in concept form at the upcoming Geneva show in March, the hot new sports sedan isn't expected to hit the market until at least late-2013.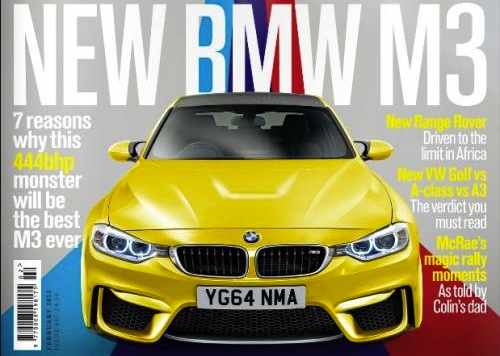 If this image – more inside the magazine – turns out to be official, the M3 looks like it will maintain its subtle yet aggressive face compared with the normal 3 Series. You can see there is certainly plenty of design themes carried across from the 3 Series, including the long thin grille-meeting headlights.
The front guards are noticeably pumped though, as expected, while a bonnet bulge remains, giving a hint as to what lies beneath. Down in the lower front bumper bar you'll see some air-grabbing scoops which are joined by a central lip spoiler, possibly made from carbon fibre? All finished off with a neat little M3 badge in one of the kidney grilles, following tradition.
Overall, it looks fantastically fetching, especially in the bright yellow paint and contrasting carbon fibre roof.
Under the bonnet, the 2014 BMW M3 is expected to come with either a 3.0-litre or 3.2-litre turbocharged straight-six engine. Power is likely to be boosted from the current 4.0-litre V8's 309kW rating, up to at least 340kW. Torque will be the most influential difference though, as the current model 'only' produces 400Nm. Being turbocharged, a figure of around 500Nm-plus is a safe bet.
As previously speculated, the new M3 will be the sedan version of the performance icon, while an upcoming 'M4' will be the traditional coupe. The reason this is being put forward is due to all of the new 3 Series two-doors being named as the 4 Series – as previewed in concept form late last year.
Other changes for the new model are set to include some decent weight reduction. The current model tips the scales at 1600kg in coupe form. The new model is pitched to sit under 1500kg, rekindling some of its traditional lightweight character seen in the first M3, the E30. This will help out not only with performance but also fuel economy.
We'll keep you updated with all the details and images of the concept version in the coming months. Stay tuned.
Be sure to check out the latest issue of CAR magazine for more details as well.