Since BMW launched the very first 3 Series coupe back in 1975, the model has gone on to represent one of the best executive driving coupes on the market. Aside from a name change to the 4 Series, the new coupe is bigger than ever. It's also more advanced and more fuel efficient. But does the 428i M Sport carry on the heritage with pride?
BMW has been doing a lot of name changing in recent years, with all coupe models now given an even number. You have the 2 series (1 Series coupe and convertible), the 6 Series (5 Series two-door), and now the 4 Series and X4 (coupe versions of the 3 Series and X3). What does this all mean for buyers? Nothing, really, except for a more diverse and slightly more confusing showroom lineup.
The 428i as we're testing here is the middle range model, sitting above the 420i and below the 435i and range-topping M4 (M3 coupe). It comes with a 2.0-litre turbo petrol engine. It is a four cylinder, which might upset a few of the hardcore fans of the classic straight six, but the facts say the 428i is more powerful than the old range-topping 330i 3.0-litre straight six.
Power peaks at 180kW – a touch above the standard for new-tech 2.0-litre turbo engines at the moment – while torque maxes out at 350Nm. This is the same amount of torque as the old E36 BMW M3 3.2, only in this the force is available from as low as 1250rpm and stays there up until 4800rpm – compared with simply peaking at 3250rpm in the old M3.
You can opt for a six-speed manual transmission, which is rather audacious of BMW in this day and age, but what we have here, and what almost all buyers are going for, is the fantastic eight-speed automatic. It's a ZF non-dual-clutch unit with paddle shifters and throttle-blipping on downshifts.
Prices start at $81,000 for the 428i. The Sport Line trim is no extra charge on the 428i (no cost with Luxury Line and Modern Line as well). From there you step up another $2000 for the M Sport package, and another $1400 for the bespoke M Sport brakes.
2014 BMW 428i M Sport – THE SPECS
Engine: 2.0-litre turbo four-cylinder
Output: 180kW@5000-6500rpm / 350Nm@1250-4800rpm
Transmission: Eight-speed auto
Drive type: Rear-wheel drive
Wheels: F: 19×8.0, 225/40  R: 19×8.0, 255/35
ANCAP: Five stars (scored 36.76 out of 37)
Kerb weight: 1470kg
Power-to-weight: 8.1:1 (kg:kW)
Official fuel economy: 6.4L/100km
Economy during test: 9.1L/100km
Fuel capacity/Type: 60L/95 RON
Power efficiency: 28.1kW:L/100km
0-100km/h as tested: 6.1 seconds
Priced from: $81,000 (plus M Sport kit and brakes: $3400)
2014 BMW 428i M Sport – THE PACKAGE
You'll probably agree, the 4 Series looks really nice in the flesh. It looks grand and exotic, partly thanks to the size increase. We especially love the way it looks at night. It oozes elegance and opulence, and you can't look away until you've ogled every curve and contour.
To get specific, the 4 Series uses a stretched wheelbase compared with the 3 Series on which it is based. Another 45mm has been added in, providing more interior space and more rear legroom compared with the previous-gen 3 Series coupe. Weight has dropped from the predecessor, but there is a weight gain of around 15kg over the current 328i sedan.
It would be hard to turn down the M Sport package. The kit blends in so well with the 4 Series shape. And let's face it, if you're spending this much on a vehicle, why not give it a personalised touch? For $2000 you get a neat styling package with more aggressive front and rear bumper bars designed to be in line with BMW's proper M cars, as well as 19-inch alloy wheels, gloss black window surrounds, special sill plates, and a smattering of M details inside.
Opting for the no-cost (on the 428i) Sport Line trim gets you the black exterior highlights, such as black side 'gills', a set of black kidney grilles at the front, as well as lowered sports suspension with adjustable settings via the driving mode toggle, and a set of soft and comfortable sports seats.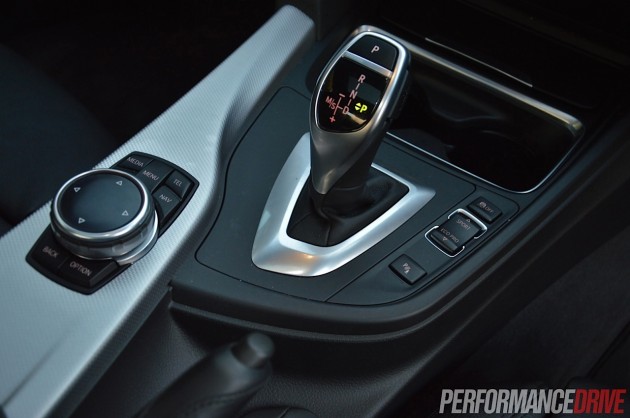 On board comfort is superb. Even with the sporty bucket seats, the leather is soft and so is the cushioning. This means you can spend hours in them without a complaint. As a bonus, the driver's chair comes with adjustable side bolsters that can either grasp you like a bear or spread out and relax.
The first time you rest down into the driver's seat you get the first hint that this car likes you. You can tell it has been built for drivers. The door opens wide and it's a lightweight door, while the driving position is typical BMW spot on. There's nothing to distract you and nothing that makes you feel claustrophobic. Facing right at you are traditional – yet modernised – twin dials. BMW has been using the twin-dial setup since the first model in 1975.
Seating in the back is restricted to two, with the centre position giving way to a shelf and storage box. If you're tall you aren't going to like sitting in the back, as with most coupes. There is enough headroom and legroom to keep average height passengers reasonably comfortable though, at least for shorter trips.
BMW does an excellent job with interiors these days, putting together a distinct high-quality decor with strong-feeling fit and finish, a good spread of premium materials and touch surfaces, some sporty highlights without going over the top, and all with an executive and professional execution. It's hard to fault. Everything that opens and closes feels and sounds like it was built with strict procedures, where only the best is passed out to buyers.
Is it safe? ANCAP hasn't specifically tested the 4 Series, mainly because it is the same as the 3 Series. Crash tests in the latest 3 Series resulted in five stars and a score of 36.76 out of 37.
Compared with the Audi A4 (34.45), the Infiniti Q50 (35.76), the Lexus IS (35.00), and the new 2014 Mercedes-Benz C-Class (36.46), the BMW is literally the safest vehicle in this segment, according to ANCAP crash test results. Not even the Volvo S60 (36.34) can match it. It's interesting BMW doesn't really make a big deal about it.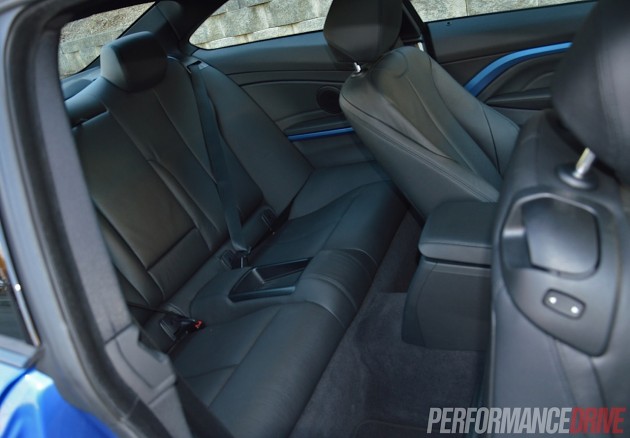 2014 BMW 428i M Sport – THE DRIVE
We consider our regular test route quite punishing for cars. There are off-camber corners, very tight sections, uphill and downhill, lots of bumps and undulations – mid-corner in some cases – and awkward double-apex corners. Add to this a coarse and often leaf-scattered surface.
The brakes get a pounding, as well as the driveline as there are short straight stints between corners that cause the transmission to upshift to third just before you're back on the brakes. And the bumps and crests give the dampers a real workout. Put it this way, there aren't many cars that come out happy on the other side. If there isn't actual flames rising from the brake pads at the end of the run there is normally a bit of smoke and a lot of hissing and ticking going on.
We tried driving one way in Sport Plus mode and the way back with all systems switched off, although, all systems off doesn't actually mean they are all off – why there is an 'off' button in the first place we don't know.
In Sport Plus mode the stability and traction control remain on but the threshold in which they intervene is slackened off a bit. The suspension and powertrain are put into their most sensitive modes, which means snappy throttle response, taut dampers, and firm and quick steering.
All systems off will allow some tailsliding mischief thanks to the fact all 4 Series coupes come with an electronic locking differential. The diff lock is only engaged when the stability systems are switched off. There is some push-understeer to deal with in this mode, and the driving tangibles go back into their relaxed setting as opposed to staying in 'Sport', including the suspension.
We found the Sport Plus mode to be the most satisfying as the suspension and throttle response are more coherent with high-tempo driving.
In Sport Plus mode you can definitely throw it around and enjoy some minor sliding as well, and there's no understeer. If you get on the power nice and early to kick the back end out it will drift momentarily.
As for straight-line performance, we timed 0-100km/h in 6.1 seconds using the on-board launch control feature. Part of this very credible acceleration is down to the faultless eight-speed automatic. It changes precisely and with the haste of a dual-clutch unit.
When it comes time to jumping on the brakes, M Sport provides twin-piston calipers for the front and single-piston units at the back. These are strong and dependable, even in grueling circumstances.
It seems like it doesn't matter how technical or demanding the road is, the BMW 428i M Sport is in its element. It likes to be driven. Even on our test route. We've driven over 200 different new-model vehicles down the same road. We don't know how BMW does it but the 428i M Sport simply feels like it wants to be there. It never feels uncomfortable or upset by the conditions.
BMW vehicles are renowned for driving pleasure and precision, especially the 3 Series, and through our rigorous test, the 428i more than lives up to the reputation. It is the best driver's vehicle in its class. There is no other way to put it.
2014 BMW 428i M Sport – THE VIDEO
2014 BMW 428i M Sport – THE VERDICT
Aside from nitpicking, it's a package that's hard to fault. When you take a look at its upbringing, its heritage, it's easy to understand why. BMW has been making essentially the same style of vehicle for almost 40 years. It has 40 years of experience under its belt.
That's 40 years of testing prototypes on circuits like the Nurburgring, and collecting data. 40 years of receiving and interpreting customer feedback. 40 years of striving to make the best driver's coupe in the class, and at a benchmarking technology level. In short, no other manufacturer has a comparable curriculum vitae in this segment.
If we could change any element it would be the engine sound and the stability off function. The company's new 2.0-litre is a great unit, and very economical, but please, spice up the engine sound a bit. Volkswagen and Audi have a cracking 2.0-litre turbo engine. You can do it too, BMW.
As for the stability system, it is confusing. If you turn it off the locking differential is engaged, but, the sport modes are gone. It's also not really off and will automatically step in if it thinks you've overstepped it, which can be annoying. A simpler configuration would be nice.
PROS:
– Perfect steering and handling
– Good power and torque for a 2.0L
– Stylish design
– Superb build quality inside
– Fuel efficient
– Safest in its class according to ANCAP

CONS:
– Engine sounds fake, like you're playing a Sony PlayStation
– Needs a real stability/traction-off function that doesn't cancel out Sport modes
– Paddle shifters are a bit of a reach
– Too many chimes and warning tones
2014 BMW 428i M Sport – THE COMPETITORS
Audi A5 2.0 TFSI
2.0-litre turbo four-cylinder – 165kW-350Nm – 6.7L/100km – 1615kg – from $75,700
Mercedes-Benz C 350 CDI
1.8-litre turbo four-cylinder – 150kW-310Nm – 6.9L/100km – 1550kg – from $70,900
Lexus RC 350 – coming soon