Strap yourself in, the 2013 Opel Astra OPC is the most powerful front-wheel drive car currently on the market, and one of the quickest point-to-point blasts you'll find this side of $50k.
Based on the already well-sorted Astra GTC Sport three-door, this rather saucy version is given a thorough going over by Opel's in-house performance division; Opel Performance Centre (OPC).
It sits in the middle of the OPC range in terms of price, power, and size, in between the mosquito-sharp Corsa OPC and the hugely capable yet well-mannered Insignia OPC. Undoubtedly, the Astra is the quickest and most focused of them all.
It's only available as a three-door hatch with a six-speed manual transmission, sending power to the front wheels.
Prices start at a reasonable $42,990, putting it on par with the Renault Megane R.S. 265 (195kW – $42,640). It is slightly more expensive than the Ford Focus ST (184kW – $38,290) and Mazda3 MPS (190kW – $39,490).
2013 Opel Astra OPC – THE SPECS
Engine: 2.0-litre turbo four-cylinder
Output: 206kW@5300rpm / 400Nm@2400-4800rpm
Transmission: Six-speed manual
Drive type: Front-wheel drive, LSD
Wheels: F and R: 20-inch forged alloy, 245/35 (optional). Standard 19-inch alloy, 245/40
ANCAP: Five stars (scored 33.35 out of 37)

Kerb weight: 1494kg
Power-to-weight: 7.2:1 (kg:kw)
Official fuel economy: 8.1L/100km
Economy during test: 10.5L/100km
Fuel capacity/Type: 56L/95 RON
Power efficiency: 25.4kW:L/100km
0-100km/h as tested: 6.1 seconds
Priced from: $42,990 ($46,685 as tested)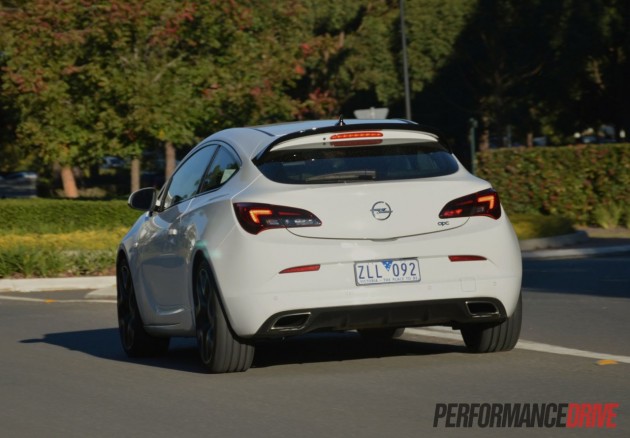 2013 Opel Astra OPC – THE PACKAGE
We'll try not to bore you with the conventional features and options, as this car is much more exciting than that. It is the top-spec Astra though, so, basically, it comes with everything you need and expect from this type of vehicle.
The essence involves dual-zone climate control and satellite navigation, as well as fabulous AGR-approved (Aktion Gesunder Rucken) electric leather bucket seats in the front with adjustable side bolsters, sports pedals and gear lever, and a comprehensive multimedia interface with various driving modes.
There are only two main options available – a refreshing change from the usually option-filled European standards.
The cheapest option  – aside from paint colours – are the 20-inch forged alloy wheels (as tested). Sizing up from the standard 19-inch items will set you back $1000. These not only give the Astra a striking concept-car-look, they also reduce unsprung mass and weigh just 1.86kg each.
The other option is the 'Premium Lighting Package' (as tested) for an additional $2000. It includes modern features like bi-xenon headlights, LED daytime running lights, excellent auto-leveling adaptive/pivoting headlights with auto high-beam functions, as well as high-pressure headlight washers for those long trips.
Like the other OPC models in the range, the Astra isn't simply a case of add a few spoilers here and a set of bigger wheels there, and then garnish it with some go-fast stripes. No, this is a dedicated model which has been developed as a separate, much more serious product.
A majority of the components underneath are swapped for track-ready items. For example, the springs are 30 per cent stiffer than those found on the sporty GTC Sport, providing a 10mm lower ride height front and rear. The suspension bushes front and rear are also stiffer, while the front anti-roll bar is 5mm thicker.
To help eliminate torque-steer, the Astra OPC comes with the acclaimed HiPerStrut front suspension layout as seen on the GTC Sport and the Insignia OPC. Engineers have designed the struts to reduce camber change while cornering, thus reducing torque-steer. Despite the power on tap, it essentially means you don't need arms of steel to wrestle the front wheels through a corner during hard acceleration. It's an excellent setup.
As a bonus, the sophisticated suspension is adjustable, sort of, with big-bore ZF Sachs dampers providing 'Sport' and 'OPC' driving modes.
So, what's at the heart of all this you might wonder? The Astra OPC's pulse beats from a 2.0-litre turbocharged four-cylinder engine producing a class-leading 206kW of power and 400Nm of torque.
Fortunately, all of the grunt isn't sent carelessly into the front wheels. It goes via a tight mechanical limited-slip differential, keeping strong hold on every one of those torques.
As for the accommodation and cabin experience, immediately upon entering the OPC you are aware it is not your everyday Astra, or hatch for that matter. There's a distinct performance atmosphere going on, with lots of polished silver highlights, a massive assortment of red-lit buttons on the dash (at night), and the focused bucket seats up front.
Legroom and headroom in the front is fine, as per usual Astra, however, rear space is a little bit confined compared with the regular GTC due to the big bucket seats in the front. Two adults will be happy back there for a reasonably long journey. Fitting three in the back could see some irritability issues arise for certain passengers.
Boot space is the same as the regular GTC as well, with 380 litres of swallowing potential. It can be expanded to 780 litres with the rear seats folded down, or 1165 litres if you've just won the lottery and intend to fill it up to the ceiling with shopping.
2013 Opel Astra OPC – THE DRIVE
Let's get some of the annoyances out of the way first, as there are plenty of good things to say about the driving experience involved with this car.
The suspension is very firm and unforgiving and really only suitable for baby-arse smooth tarmac roads. It will take some getting used to if you plan on using this car as an everyday driver. Holding back on pushing the 'Sport' and/or 'OPC' buttons does help, but even in its most humble setting, speed bumps and potholes will soon become a major phobia.
Adding salt to the wound, the front spoiler is extremely low, a lot lower than many other higher end sports cars. This means you need to take special care – and look like a bit of a tool doing it – pulling into driveways and restaurants and so on.
Judging by the ingredients of this car, the recipe is not actually as lairly as it seems. Frankly, the engine note through the rev range is a little disappointing, with a lot of suction and air-rushing sounds, but very little in terms of metallic combustion noises or throaty induction notes. In saying that, there is a nice baritone burble on initial start up and in the lower rev range.
Now for the good stuff. Opel says the Astra was pounded around the treacherous Nurburgring for 10,000km during pre-production testing, which is regarded as the equivalent of around 180,000km of regular road driving. This gives you an instant understanding of what this car is about and what it was built to do.
We timed 0-100km/h in 6.1 seconds, which is seriously quick for a front-drive hatch. Strangely, it is not as quick as the less powerful Focus ST (we previously timed 5.7 seconds), at least in straight line acceleration and off the mark. For us, we were expecting a little more excitement in forward g-force.
Part of this minor letdown comes from the engine's character. Like the other OPC models, the Astra OPC's tacho doesn't spin around as much as you'd hope. In fact, peak power is achieved at a diesel-like 5300rpm. For a high-performance four-cylinder, this is not exciting enough in our opinion.
We weren't able to take the car to the track for a test drive, we did take it on our usual deserted mountain road route. Here, the Astra OPC showed its mind-blowing capabilities. It wasn't just able to redeem itself and justify the quibbles mentioned above, it goes beyond and truly dazzles the senses in the bends.
Front end grip is nothing short of amazing, even with the stability control switched off. Pushing 206kW through front wheels is always going to be a task in itself, but in this, you can plant the throttle at the wrongest of times and the clever HiPerStrut (high performance strut) suspension and LSD will grab the road like Arnold Schwarzenegger clinging from a helicopter in one of his blockbuster action flicks. There is stupendous grip on offer here.
You can tell a lot about a vehicle's dynamics by how soon the stability control intervenes. In some vehicles, it's quite easy to get the ESP light to flash. In others, it takes some really vigorous sawing of the steering wheel to provoke intervention. In the Astra OPC, it is one of those latter vehicles. In other words, the chassis and suspension have been set up properly from the start; the ESP is simply a supplementary safety net for overly hazardous situations.
Stopping power from the 355mm cross-drilled front brakes, clamped by four-piston Brembo calipers, can be organ-wrenching. There's enough pressure to cause significant blood to flow to your head under serious high speed stops. We did experience some fading, eventually, during repeated abuse, but all in all they perform very well and certainly live up to the tune of the rest of the car.
2013 Opel Astra OPC – THE VIDEO
2013 Opel Astra OPC – THE VERDICT
If you're in the market for an all-out tarmac-tearing power hatch, the Opel is the place to be. It's bonkers through corners, the brakes can pull your face off, and the engine is literally the most powerful in its class.
The main aspects that let it down for us? The engine and its inability to rev and make all the right noises, and the transmission, which feels clunky and notchy. If you take this car on board and accept it as an inexorably determined track day weapon, you will enjoy this package a lot.
If, on the other hand, you're interested in buying this because you think it's a cute everyday hatch, you will find it's a bit too much of an animal for that. There's turbo-lag (if you don't know how to manage it), it has a manly manual gear throw, firm suspension, and a low front spoiler which does tend to scrub out on even the gentlest of driveways. In other words, this car is best left to conquer lap times, and look good doing it mind you.
PROS:
– Changes direction like a nervous wasp
– Impeccable grip/chassis dynamics
– Lots of standard features, at a reasonable price
– Best-looking hatch on the market?

CONS:
– Tight turning circle a nightmare in car parks
– Could sound – and go – a bit better in top end; peak power at just 5300rpm
– Gearbox is notchy/clunky at times
– Confusing array of buttons on the dash, not the most friendly interface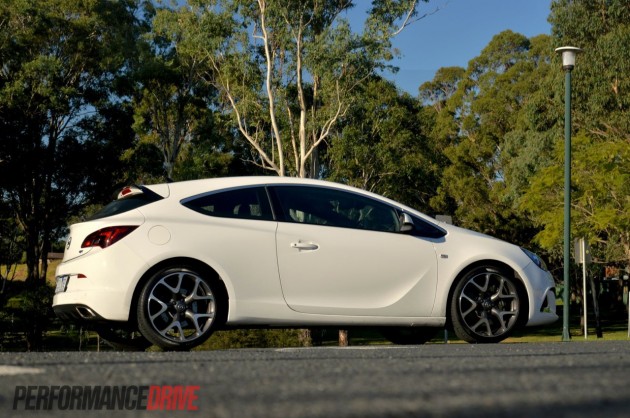 2013 Opel Astra OPC – THE COMPETITORS
Ford Focus ST
2.0-litre turbocharged petrol four-cylinder – 184kW-360Nm – 7.4L/100km – 1435kg – $38,290

Mazda3 MPS
2.3-litre turbocharged petrol four-cylinder – 190kW-380Nm – 9.9L/100km – 1456kg – $39,490

Renault Megane RS265 Cup
2.0-litre turbocharged petrol four-cylinder – 195kW/360Nm – 8.2L/100km – 1375kg – $42,640