An image of the 2013 Hyundai Genesis Coupe has allegedly been leaked revealing and potentially confirming the all-new shape. The new Hyundai Genesis Coupe was spotted a couple of months ago inside Hyundai facilities.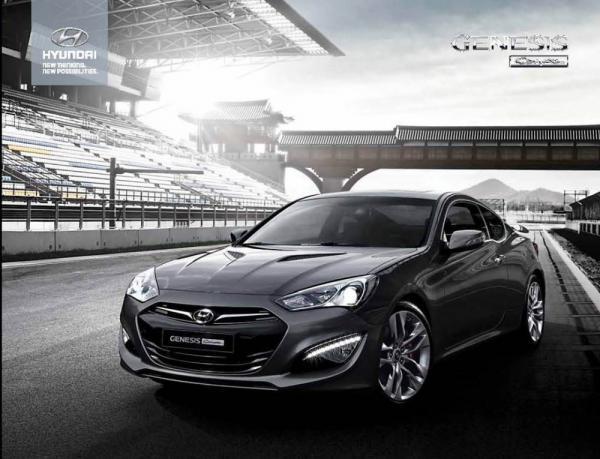 Hyundai has apparently told Jalopnik in the US that this image is a fake, but we and most other publications are not so sure as it looks remarkably similar, if not exactly the same as the spotted car in September. Even if it is a rendering, it's an accurate one at that.
It showcases Hyundai's latest design language, particularly evident in the front end. There's a large open-mouth centre fascia with a cross beam through the middle, similar to the Hyundai Veloster and other new Hyundai models.
The bonnet on the 2013 Hyundai Genesis Coupe is long and flat like a traditional front-engine rear-drive sports coupe. It looks quite nice. There's also some element of aggressiveness to its stance with two sharp lower wings on the front bumper bar.
As for the engine details, Hyundai is yet to reveal all the specs. However, there are a number of likely engine candidates. The first is an entry-level model using a 2.0-litre turbocharged four-cylinder engine, also seen in the US-spec Hyundau Sonata. In that it produces 204kW of power and 364Nm of torque.
Next up is the 3.8-litre naturally aspirated V6, also seen in the Genesis sedan. It produces 248kW of power and 294Nm of torque. At the top of the range, reports from the US say, a supercharged version of the 3.8-litre V6 will become available. It is expected to produce a very healthy 298kW (400hp).
We'll have to wait until the 2012 North America Auto Show in Detroit for the official 2013 Hyundai Genesis Coupe unveiling to find out the concrete details. The show starts on January 9.
This is something Australian's can get excited about too, as Hyundai Australia has confirmed the new model will go on sale Down Under. Market entry isn't likely to take place until 2013.