Images of the new 2013 Audi RS 4 Avant wagon have been leaked ahead of its 2012 Geneva Motor Show unveiling early next month. Full details of the new model are yet to be revealed.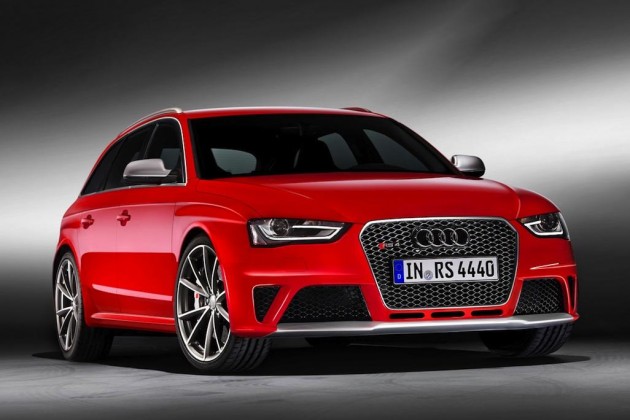 As far as we know, the 2013 Audi RS 4 will come in Avant form only. These images show it will come with all-new 19-inch alloy wheels, while the exterior embraces the form of Audi's new 2012 Audi A4 shape, with LED daytime running lights sitting inside new slimline headlights.
The front bumper bar stands out as something quite different to what we were expecting. The lower half is somewhat square, showcasing a silver lower lip with very open side intakes. There's also a triple-vent lower fascia extending off the grille.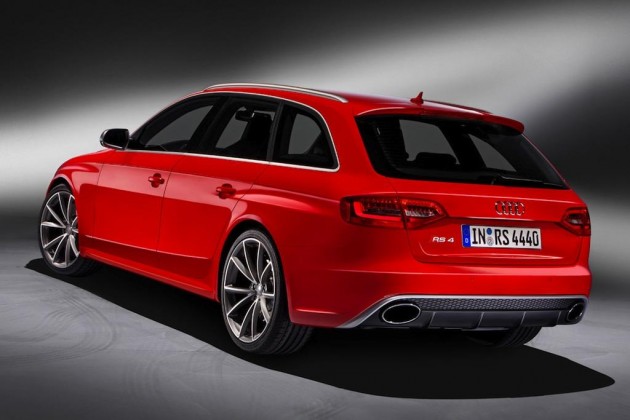 At the back, Audi has fit a roof/tailgate-mounted rear spoiler, and an aggressive lower diffuser section encapsulating twin exhaust outlets. You may just notice, but the front and rear wheel arches appear to be heavily pumped over the conventional Audi A4 Avant design, going back to traditional RS 4 pedigree.
It is yet to be officially announced, however, it is understood the new 2013 Audi RS 4 Avant will come with a 4.2-litre naturally aspirated V8 producing 331kW of power and 430Nm of torque. Acceleration from 0-100km/h takes 4.7 seconds, with help from an S tronic auto-based transmission.
The new high performance A4 is expected to go on sale later this year in international markets, and in Australia in 2013. We'll keep you updated with official word.
UPDATE: Audi Australia has confirmed the new RS 4 will go on sale locally in the first quarter of 2013.