Audi has been spotted test driving a prototype version of the all-new Q8 coupe-style SUV out on the Nurburgring in Germany. As far as we know, this is the first prototype of its kind with a production-ready body.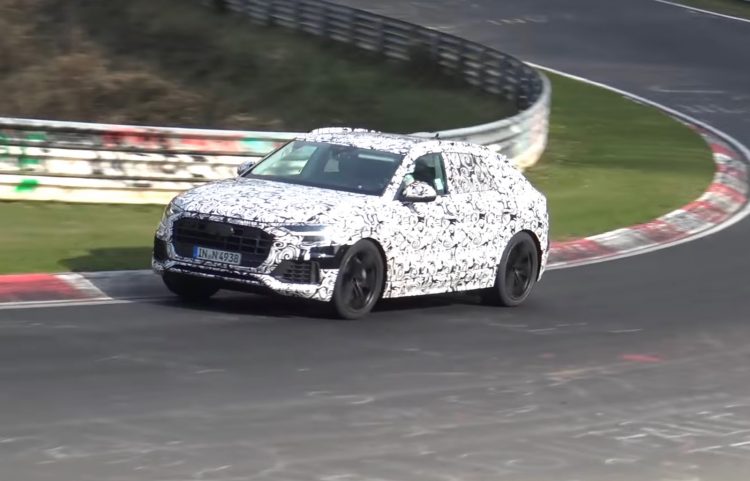 The Q8 has been previewed a number of times with concept versions but now it seems Audi is getting more serious about a production model. It's set to come in as the company's new flagship SUV, taking the shape of rivals including the BMW X6 and Mercedes GLE Coupe.
This will be Audi's first four-door coupe SUV to rival said competitors, and it's also set to be one of its first hybrid SUVs. Although conventional combustion engines are set to be on offer, Audi is also very likely to introduce some new hybrid tech for the Q8.
Hybrid tech was previewed with the Q8 Sport Concept, showcasing a 3.0-litre twin-turbo V6 hybrid producing 330kW and 700Nm, combined. This enabled the concept to cover 0-100km/h in just 4.7 seconds, with a top speed of 275km/h. Thanks to the electric motor, it also offered a range of 1200km.
Other engines are expected to include the new 4.0-litre TDI turbo-diesel from the latest SQ7 large SUV, where it produces 320kW and 900Nm. This is enough oomph to see 0-100km/h done and dusted in a claimed 4.9 seconds, while offering a respectable average fuel consumption of 7.2L/100km.
By the looks of this prototype spotted on the 'Ring, the production version will take plenty of design inspiration from the concepts. The unmissable large grille at the front, the swooping roofline, to the high waistline, it all looks pretty similar in terms of profile. It will likely miss some of the more outrageous concept elements though, such as the massive alloy wheels and over-the-top front end and integrated spoiler.
Judging by the fact this is one of the first prototypes spotted in the wild, production might not commence until next year with an on-sale date towards the end. Click play below for a preview.