Renowned BMW tuners over at Alpina are planning to unveil the new 2013 Alpina B3 Bi-Turbo performance 3 Series at next month's Geneva Motor Show. The company has just released some preliminary details.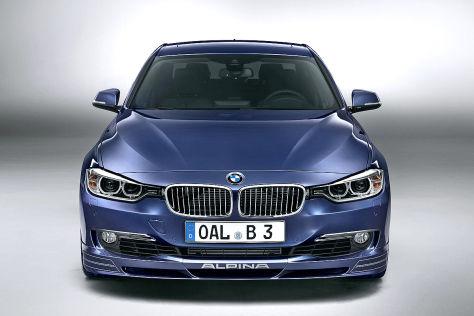 Taking the already potent F30 BMW 335i, Alpina has come up with an engine tune which tweaks power by an incredible 85kW. The 3.0-litre turbocharged inline six-cylinder in the B3 produces an M3-like 310kW of power, reached between 5500rpm and 7000rpm.
The new B3 is not only a powerful machine, Alpina says the 2013 version is up to 20 per cent more fuel efficient than the previous model. It returns a very reasonable 7.9L/100km on the combined cycle.
Matched up to the factory ZF eight-speed automatic transmission sending power to the rear wheels, acceleration from 0-100km/h is set to take just 4.0 seconds. This makes it quite a lot quicker than the current 4.0-litre V8 M3, which covers 0-100km/h in 4.8 seconds.
In other areas, Alpina is expected to fit the 3 Series with various subtle yet tasteful styling tweaks, including a new bodykit and front spoiler (as pictured), bespoke alloy wheels, and a dressed up interior with unique Alpina highlights.
We'll be sure to provide full details of the new B3 during the Geneva show, which starts March 5.