Kia has dropped a teaser image of an all-new SUV concept, known as the KCD12, which will be unveiled at the North American Auto Show in Detroit next week.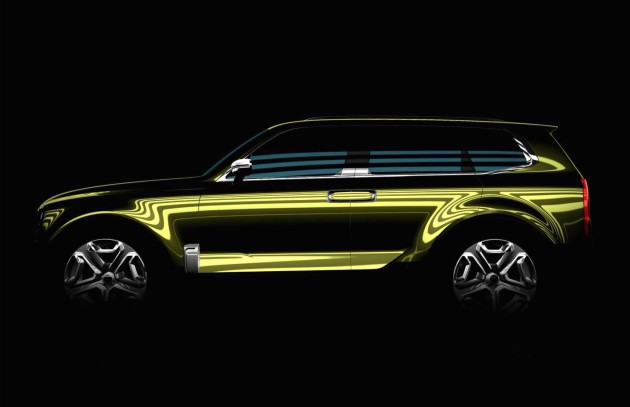 It looks like Kia might be about to jump on board the large SUV bandwagon, with this concept hinting at a larger model than the current Sorento. Unlike the Sorento though the concept is set to be going for a dedicated luxury focus.
Of course, being a teaser, Kia hasn't said much about the new vehicle at this stage. In a statement the company said it was designed at its Californian studio in the US, taking Kia's design language in "a bold new direction, suggestion styling of a possible future premium large SUV".
As shown in the image, the concept showcases a handsome and defined look, with solid lines, bolstered wheel arches, flash paintwork, and a high waistline. It actually looks a bit like a Range Rover.
There's also some interesting chrome detailing around the windows, futuristic door handles, and inside, something Kia describes as "state-of-the-art health-and-wellness technology".
Engine specs haven't been mentioned, but judging by the size and proportions we'd be speculating at least a V6 or a hybrid powertrain. We could also look to the upcoming K900 large luxury sedan for some clues. The K900 is powered by a 3.8-litre V6 producing 231kW.
All will be revealed at the Detroit show starting January 11. It's unknown if the suspected production version will ever make it to Australia. It will probably be a left-hand-drive-only model, designed for specific markets like with the K900.