Remember the Volar-e concept preview from earlier this week? The company behind it, Applus-Idiada, has now revealed the high-powered EV in full. The swooping sports car is based on the epic Rimac One concept.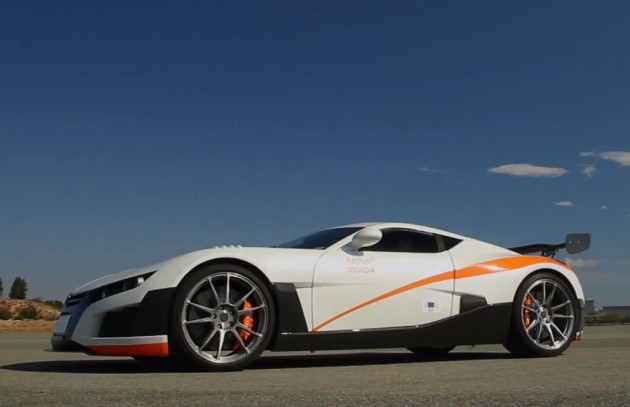 Sporting four hub-mounted electric motors, the Volar-e delivers an insane overall maximum output of 800kW and 1500Nm. This is over 200kW more powerful than previously expected, making it the most powerful EV in the world.
Acceleration from 0-100km/h is done and dusted in no time, as you would imagine, taking just 3.4 seconds, while the quarter-mile is achievable in just 10.2 seconds. It also has a mind-blowing top speed of 300km/h, which is incredible for an electric vehicle.
The best part is the 38kWh battery can be fully recharged in just 15-20 minutes using a rapid charger, according to Applus-Idiada. How long and for how many kilometres a charge lasts is unknown.
In terms of the design, the Volar-e might seem suspiciously similar to the Rimac One concept from Croatia. This is because it is similar. The Croatian company assisted with not only the ballistic powertrain setup but also the body design and aerodynamics. The body is comprised of a carbon fiber shell with a tubular chromoly chassis.
The package also comes with torque-vectoring control for the all-wheel drive system, and carbon ceramic disc brakes for optimum braking performance.
Although there is no specific plans to put the prototype into mainstream production, elements of its design and technology may eventually spawn a vehicle for the market later down the track. We hope so.
See below for the full specifications, and further down for a quick demonstration video.
| | |
| --- | --- |
| Motor | 4 electric motors |
| Vehicle category | Supercar |
| Body | Carbon fibre |
| Chassis | Tubular Cr-Mo Steel |
| Wheelbase (mm) | 2770 |
| Front / rear track (mm) | 1540 / 1534 |
| Maximum power (kW/CV) | 800 / 1080 |
| Maximum torque per wheel (Nm) | 1500 |
| Maximum speed (km/h) | 300 |
| Acceleration 0-100 km/h (sec.) | 3.4 s |
| Acceleration 0-200 km/h (sec.) | 6.5 s |
| Acceleration 0-300 km/h (sec.) | 12.1 |
| Acceleration 0-402 m  (sec.) | 10.3 |
| Traction | 4WD |
| Brakes | Carbon-Ceramic |
| Front suspension | Independent height and stiffness adjustable |
| Rear suspension | Independent height and stiffness adjustable |
| Front tyres | 245/35R20 |
| Rear tyres | 295/30R20 |