As suspected, Tesla was indeed planning a facelift for the Model S electric sedan. And here it is, featuring a new-look front end and revised interior.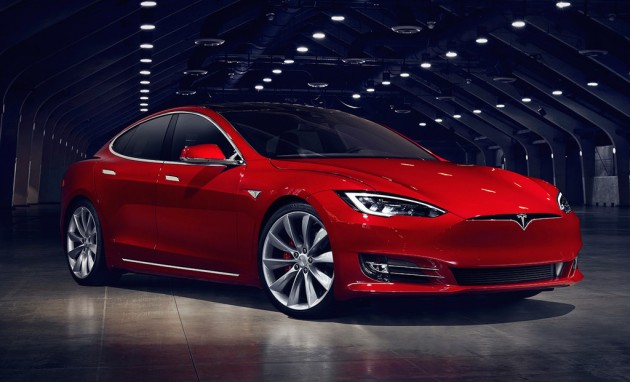 The front end grille area has been given a wipe-over and no longer features the darker section. Instead, the bumper bar sweeps straight through, similar to what is seen on the Model 3.
There's also new LED headlights that now use 14 three-position LED turning lights to help drivers see around corners, while the lower bumper clusters have been updated and can be optioned with LED fog lights.
For the interior Tesla has made some evolutionary changes, including offering optional heated and ventilated front seats, borrowed from the Model X, while also equipping the cabin with a medical-grade HEPA air filtration system that claims to remove 99.97 per cent of particulate exhaust pollution and all allergens.
Tesla has updated the centre console as well and finally offered some storage options, and brought in more personalisation packages such as Nappa leather, Alcantara headlightliner, LED mood lighting, and wood trimmings in Dark Ash and Figured Ash style.
Of course, the Model S continues to come standard with the world's largest on-board LCD interface, measuring 17 inches. It packages all on-board controls together, leaving no buttons or switches on the dash. It comes with sat-nav and Google Maps with free updates for seven years, WiFi and internet connectivity, internet radio, and a rear-view camera.
The latest model is available in four main grades with four different electric power systems. These span from the rear-wheel drive 70D capable of 0-100km/h in 5.8 seconds and a range of 455km, an all-wheel drive version, the 90D capable of 0-100km/h in a claimed 4.4 seconds, and the range-topping P90D capable of 0-100km/h in 3.3 seconds (Ludicrous pack 3.0 seconds).