You know the police is serious when it converts one of the fastest new cars money can buy into a police car. Police agencies in Northern Virginia and Washington have put in for a special order for a 2012 Nissan GT-R police car to be fully prepared by EVI Corporation.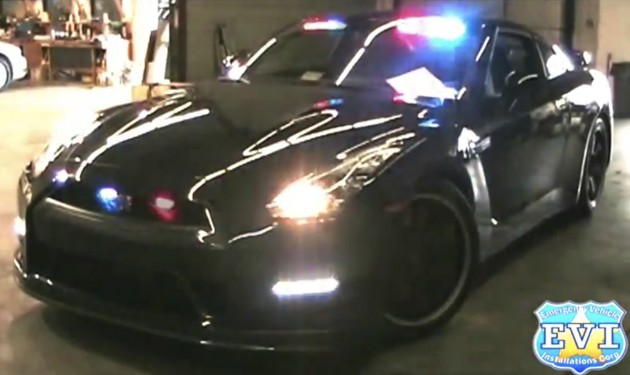 This is one cop car you don't want to be running from. As we know, the 2012 Nissan GT-R is capable of smashing 0-100km/h in just 2.9 seconds and can complete the quarter-mile drag in just 11.1 seconds, straight out of the box.
According to EVI Corporation, an undisclosed police agency in the Northern Virginia and Washington area put in for a new, 20km-old, Nissan GT-R police car to be kitted out with discreet LED police lights and police sirens.
The GT-R police car will reportedly be used as a unmarked emergency vehicle for use in highway patrol duties. For obvious reasons, the specific police department and area that will use the GT-R remains a mystery.
If the police force is looking for an incentive to help recruit more newcomers, this GT-R police vehicle is sure to do the trick. Click play on the video below to see the lights in action.
Also check out:
– Video: Nissan GT-R beats 11 of the world's best driver's cars in mega drag race
– Nissan GT-R crash ends up in ditch submerged in water
– Nissan GT-R R35 shooting brake wagon anyone?
– Video: AMS Alpha 12 Nissan GT-R R35 runs 8 seconds