PerformanceDrive is preparing its full review of the latest 2012 Lexus IS F. This is Lexus's answer to the BMW M3. The 2011/2012 update sees the introduction of a 'Sport' button, a mechanical limited-slip diff, and racy new alloys.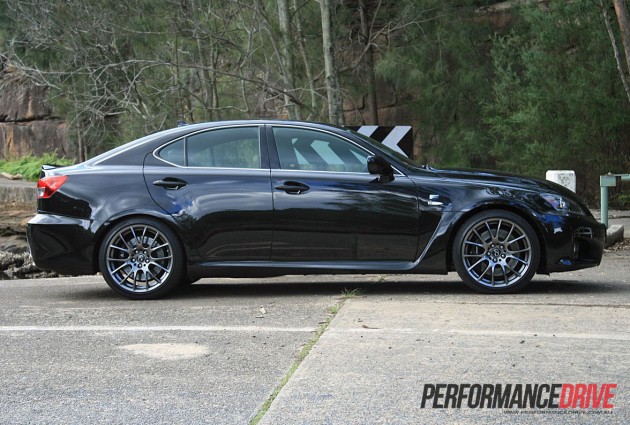 There's no denying the imposing, almost sinister looks of the 2012 Lexus IS F. Especially in black. It features new 19-inch BBS forged alloy wheels too, in equally subtle yet focused charcoal grey. As before, the wheels hide six-piston cross-drilled front and four-piston rear brakes.
For the 2011/2012 update, Lexus has retuned the suspension, with new spring rates front and rear, and revised shock absorbers for increased road comfort. The setup is still at the more serious end of the performance scale, providing excellent 'on-rails' handling and grip.
The same brutal-sounding 5.0-litre naturally aspirated V8 lurks under the bonnet, developing 311kW of power and 505Nm of torque. It features a forged crank, conrods, and cam lobes, as well as titanium valves.
It also features a secondary intake manifold design co-developed by Yamaha which bellows out an almighty roar above around 3500rpm. The best way to describe the engine note is to imagine a jack-hammer, hammering away at a solid metal floor, inside an echoey stainless steel hallway. It's a beast.
The trump card of the IS F is its price. Compared with its main rear-drive rivals – the BMW M3 sedan ($141,700), and the Mercedes-Benz C 63 AMG sedan ($152,800) – it's a bit of a bargain at $126,800.
Is it as good as the rivals though? Bear with us while we put together the full review and video.
Full review now up; click here.