This is not an official image of a potential Bugatti Veyron successor. Instead, this Bugatti Ettore Grand Sport concept – named after the man behind the badge (literally, 'EB' Ettore Bugatti), is simply a very impressive artistic take on what such a model could look like.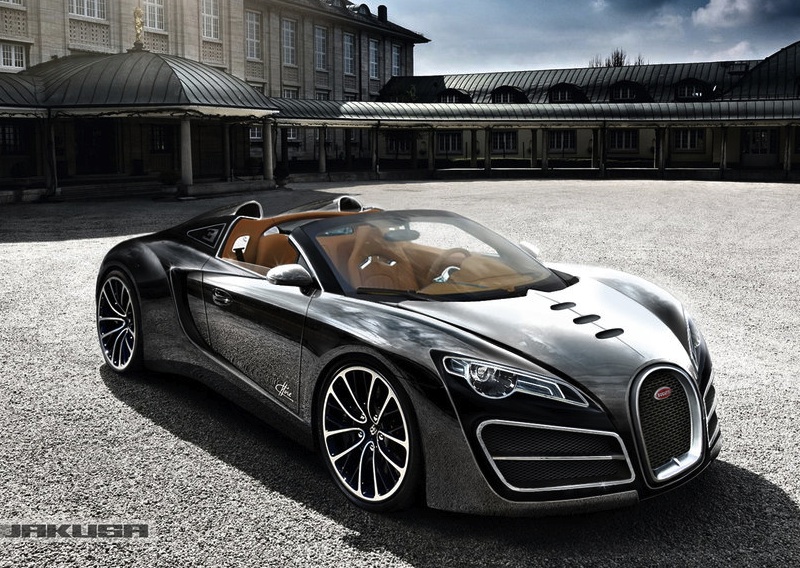 Created by automotive artist Tamas Jakus, the Bugatti Ettore Grand Sport concept features a Veyron-style body that appears to have been turned up by about 10 levels in regards to styling. Every angle, every panel and panel cut is made much more dramatic.
At the front, there's two large intakes on either side which float in a large set back section that also extends up around the headlights. The headlights are also much sharper than the Veyron's, presenting a piercing projector globe with angry and inverted silver clusters that lead towards the grille.
The centre fascia and grille is fairly similar to the Bugatti Veyron grille, and in turn sticks with Bugatti's tradition of a top arch with a flat bottom edge. Meanwhile the bonnet looks like a piece of artwork itself, almost like a designer bonnet. It features three simple oval holes and a crisp line down the middle flowing from an arrow point at the top.
The sides of the Bugatti Ettore Grand Sport concept borrows more of the traditional design cues from the Veyron, with a large vertical side air intake in the rear haunches. The rear guards are sharper and feature a flatter surface on the top as well.
It's unknown what the artist envisions the Ettore concept to be powered by. Since it is just a bit of a fantasy at this stage, we'd like it to feature a quad-turbo W20 – two V10 engines instead of the Veyron's twin V8-type layout. What do you think of it? And what would you like to see sitting in the engine compartment?