Meet one of FPV's hottest rides, the 2012 FPV GT-P MKII. It comes with a tyre-smoking 335kW supercharged V8 that is definitely not for the fainthearted. The only thing that stands between the GT-P and a sub 5.0-second 0-100km/h time is its grunt-to-tyre ratio.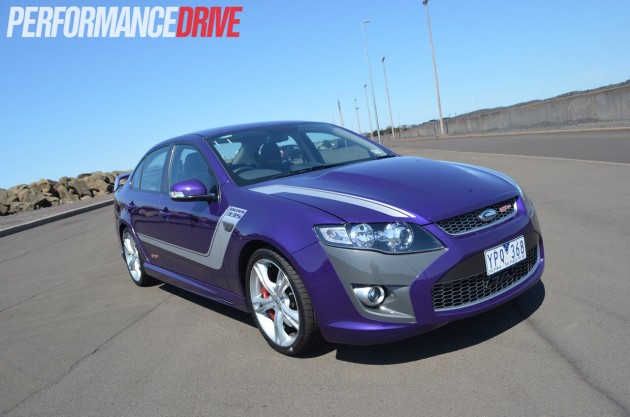 2012 FPV GT-P MKII – PROS AND CONS
PROS:
335kW supercharged V8
Sporty front seats
Turns tyres on demand
Great exterior styling – best-looking modern GT?
Bi-modal exhaust
CONS:
Heavy fuel consumption can hurt your wallet (14.5L/100km – as tested)
Traction is an issue
Feels cumbersome when pushed hard
2012 FPV GT-P MKII – OVERVIEW
The GT-P is the second most expensive FPV on sale. Priced at $82,040, it's positioned just behind the suited-up and more subtle-looking GT-E ($82,490).
The GT-P comes with either a six-speed manual or a six-speed automatic as a no-cost option (as tested). There are a total of ten colours to chose from, leaving even the pickiest person with enough choice.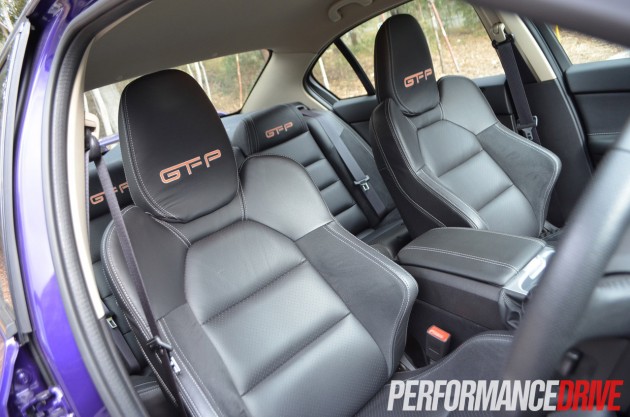 The noticeable extras the GT-P receives over the regular GT include a leather trim, GPS navigation, FPV body and hood stripes, and a set of premium Brembo cross-drilled and ventilated discs with multi-spot calipers. All these items are optional on the regular GT, and would set you back a total of $11,390 on top of the $70,790 asking price.
By going for the $82,040 GT-P, you get all of the mentioned kit as standard, saving yourself a whole $140. But you do get a more premium badge, which could mean better resale.
Under the bonnet of the GT-P  – and the GT and GT-E – sits a 335kW/570Nm 5.0-litre supercharged V8. It's the most powerful FPV engine to date, and although it does come from the USA, it is mated with an Aussie-made Harrop supercharger. The end result is pure bliss on your eardrums.
2012 FPV GT-P MKII – ENGINE SOUND AND 0-100KM/H ACCELERATION VIDEO
2012 FPV GT-P MKII – ACCOMMODATION AND EQUIPMENT
Inside the cabin you'll find two stylish and super-comfortable sports seats, a sporty-looking rear seat with a centre arm rest, a unique GT make number plaque, FPV scuff plates, a 260km/h speedo (it has 335kW don't forget), dual-zone climate control, auto headlights, push-button start, cruise control, and audio and phone Bluetooth connectivity.
New to all of the FG MKII range is an eight-inch Interior Command Centre (ICC) LCD touch-screen multimedia interface with integrated reverse-parking camera.
Hooked up the interface is an eight-speaker stereo. Sound clarity is good, but if you crank up the bass it can upset the speakers. The new ICC supersedes the previous Human Machine Interface (HMI) screen. Simply put, the new system is more refined and easier to navigate, especially while on the go.
Based on the Falcon, the GT-P naturally has more than enough room for five occupants, and their luggage. Boot space is a whopping 535 litres, which can become even handier by folding the 60/40 split rear seats to open up a large portal.
2012 FPV GT-P MKII – DESIGN AND SAFETY
There's no doubting FPV's FG range is certainly a good looking bunch, especially the GT-P. With its large rear spoiler, aggressive bonnet bulge, mean front-end styling, 19-inch wheels, and special 335kW stripes stretching from front to back, fellow motorists get more than an inkling it's no taxi.
All FG Falcons and FPV sedans have been given the nod of a five-star ANCAP safety rating. Standard equipment includes driver and front passenger airbags, curtain airbags plus front seat side thorax airbags, belt reminders, ABS, ESC, EBD, traction control, and brake assist.
2012 FPV GT-P MKII – ON THE ROAD
One thing must be known; the GT-P needs more rubber on the road. Under the rear guards sits 245/35 R19 tyres, and while that might be enough to keep some cars from losing grip, it's certainly not enough for this super-powerful sedan.
Once you get the power to the ground, acceleration comes on strong. You get the feeling the 335kW GT-P can stretch the entirety of its 260km/h speedo quite easily.
After numerous 0-100km/h runs, we managed to record a best time of 5.0 seconds. The reason we say 'numerous' is because you have to work really hard to maintain as much traction as possible or you just end up making clouds of smoke – fun, but not quick.
The supercharged V8 GT-P is able to cruise and mosey about town like any other Falcon, albeit with a distinct supercharger whine and lots of pops and crackles from its quad-outlet bi-modal exhaust.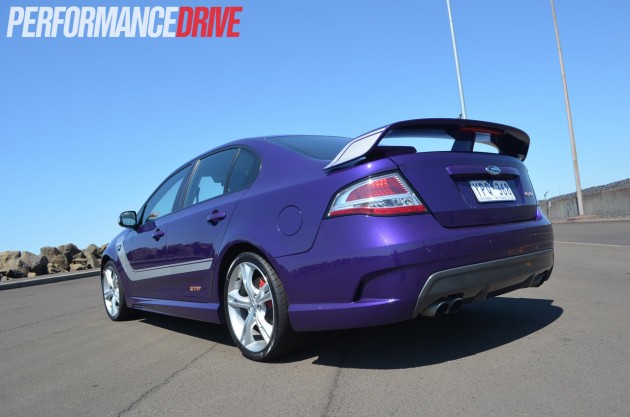 The firm sporty ride does become tiring after a while as it crashes and bangs over potholes and bumps, leaving you to think the wafer-thin tyres could implode at any time. As soon as you get the supercharged sedan out on the open road, the GT-P feels right at home and becomes a pleasurable cruiser that can eat up loads of kilometres.
Initial turn in is good, but from there on the front tends to understeer. The same can be said for changing direction at speed; there's no hiding its 1842kg kerb weight and lack of finesse in the twisty stuff.
The best way (and seemingly only way) to combat the understeer is to turn it into oversteer and steer it from the back. This is a character that you become familiar with when pushing the under-tyred GT-P hard through the bends, with the traction control off that is.
If you have your heart set on a GT or GT-P, be sure to become good friends with your local tyre dealer. Oh, and your local servo.
Under a mix of easy going and hard driving, we recorded an average fuel consumption figure of 14.5L/100km. This is quite high, even for a cracking performance machine like this.
Whereas the manual variant is a bit on the clunky side, and has gear ratios that seem to wind on forever, we found the six-speed auto-equipped GT-P smooth with good understanding of what a driver is demanding from it.
The auto variant will suit those who work in the city, or use their GT-P as a family chariot. The 'box seems to handle the 570Nm easily, never hesitating to deliver fast acceleration. Punching the accelerator into the carpet at freeway speeds will just about give you a case of whiplash, and also reel in multiple cars at a time.
If you spend a lot of time getting to know the car, you can have a hell of a lot of fun in it. You just have to watch your speed, and how much power you dial in, or you'll be driving looking out the side windows before you know it.
2012 FPV GT-P MKII – VERDICT
From the very moment you push the start button and let its supercharger turn, the eight-cylinder rumble is enough to put a great big smile on your face. It's a car that makes you feel good as you drive down the road, and a car that you long to drive after a good night's sleep.
Even though it's not as unique as GTs from the past (such as the XW, XY, and XA GTs), you still realise you're driving along in a genuine Aussie muscle car. The look on people's faces in traffic is pure lust (unless they're a Holden/HSV fan, and even then, they're just upset you have more kilowasps), which reminds you again, you are in something truly special, and something that will no doubt become a sort-after collector's item in the years to come.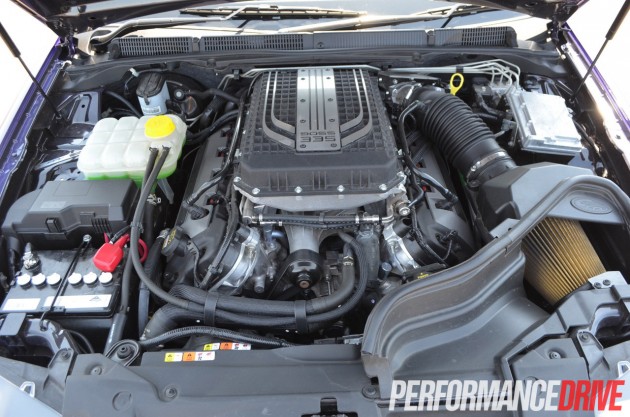 With the positive aspect of the verdict out of the way, we must admit we can't help but feel slightly disappointed with the GT-P's overall handling chracteristics and its constant traction problems. The recent release of the FPV GT RSPEC sees some of the suspension and traction woes corrected (stay tuned for our full review and video coming up mid February 2013). We just hope these corrections roll over into the next bunch of regular FPV GT vehicles.
2012 FPV GT-P MKII – THE COMPETITORS
HSV GTS – 6.2-litre naturally aspirated V8, 325kW/550Nm – 1784kg – $82,990
HSV's latest GTS features magnetic ride control, brutal LS Chev grunt, and looks sharper than a shark in a tuxedo. There isn't much between the GT-P and GTS in terms of price, but there is 10kW/20Nm difference under the bonnet.
Chrysler 300 SRT8 – 6.4-litre naturally aspirated V8, 347kW/631Nm – 2012kg – $66,000
On a kW-for-dollar scale, the 300 SRT8 knocks its opponents out of the ring. It's also fitted with more standard kit than its rivals. Power isn't a problem, but its weight can work against it in the bends.
2012 FPV GT-P MKII – SPECIFICATIONS
MODEL
2012 FPV GT-P MKII
ENGINE
5.0-litre DOHC 32-valve supercharged V8
ENGINE SIZE / COMPRESSION RATIO
4951cc / 9.25:1
BORE X STROKE
92.2mm x 92.7mm
POWER
335kW@5750rpm, 570Nm@2200-5500rpm
POWER TO WEIGHT RATIO
5.49: 1 (kg:kW)
KERB WEIGHT
1842kg
HEIGHT / WIDTH / LENGTH
1466mm / 1868mm / 4956mm
DRIVETRAIN
Six-speed ZF automatic, rear-wheel drive, limited-slip differential
BRAKES
F: Brembo: four-piston calipers, 355 x 32mm cross-drilled and ventilated discs
R: Brembo: single-piston calipers, 328 x 26mm cross-drilled and ventilated discs
WHEELS / TYRES
F and R: 19- x 8-inch alloys, 245/35 R19
FUEL TANK CAPACITY
68 litres
FUEL TYPE
95 RON
FUEL CONSUMPTION
Tested average: 14.5L/100km
Official average: 13.7L/100km
PERFORMANCE
0-100km/h: 5.0 seconds (tested)
PRICED FROM
$82,040
WARRANTY
Three-year/100,000km