TranStar Racing, creator of the outrageous Dagger GT, has announced plans for a fresh new model for 2012. It's called the Dagger GT-D and power is claimed to be not just 2000hp (1492kW), like the 'normal' Dagger GT, but 2700hp (2014kW). The Dagger GT-D (D for Dragster) will not be street legal – with acceleration from 0-100km/h projected to take less than one second, we can see why it won't be road legal.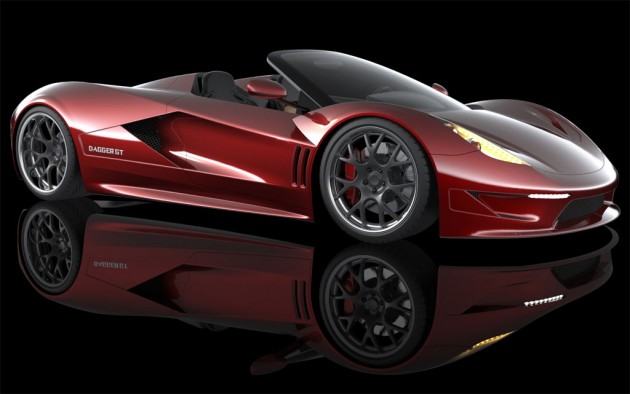 It's sounds pretty far-fetched, but TranStar Racing is keen on the building the Dagger GT-D. It will use a Pro Mod Pro Stock Dragster rear end and a Mendeola transaxle to help get the car launching off the line and on to a quarter mile speed of 205mph (330km/h).
As for the 2700hp, that will come from an aluminium twin-turbo engine. Other features will include Goodyear Pro Stock Slicks, or DOT ET Drag tires, hydraulically operated double parachutes, a large rear drag wing, and a NHRA rollcage.
TranStar Racing hasn't mentioned any expected quarter-mile times for the new Dagger GT-D, but according to one of the comany's other project cars, the Dagger GT-LS (Land Speed) car, which also has a 2700hp engine, top speed could nudge the 500km/h mark.
It all sounds a bit ridiculous but TranStar Racing is aiming to take the Dagger GT-LS to Bonneville to have a crack at a new land speed record. Like the base model Dagger GT, the new Dagger GT-D is expected to be built upon a carbon fibre frame wrapped in carbon fibre panels.
We look forward to providing any video footage or updates on the the Dagger GT-D as soon as we can.
Powetrain aside, the body of the Dagger GT does look quite stunning. Wouldn't you say?