It's not every day you stumble upon one of these. It's a 1989 Mercedes-Benz 300 CE twin-turbo coupe fitted with a special 3.2L HFM M104 twin-turbo conversion, and it's for sale. With the help of some uprated turbochargers, the twin-turbo Mercedes-Benz 300 CE is said to output around 448kW (600hp) at the engine.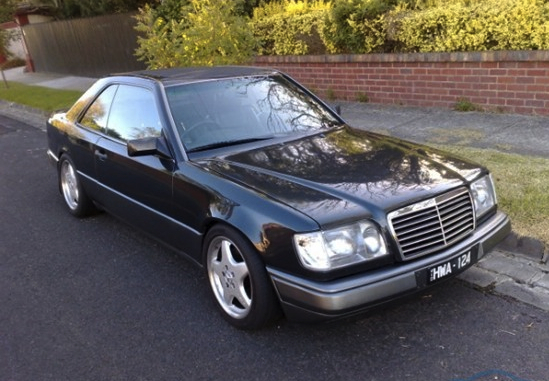 According to the owner, 75 special versions of the Mercedes-Benz 300 CE twin-turbo were made by a British Mercedes-Benz dealer known as Hughes of Beaconsfield. Out of these 75 cars, 25 of them consisted of conversion packages that were developed for used 300 CEs. Although this example is not one of those used examples per se, a conversion was made up in similar fashion at Prestige Car Service Centre in Melbourne for this particular car.
The Mercedes-Benz 300 CE came out from the factory as a sleek, sporting package, using a 3.0-litre straight-six engine outputting 135kW and 260Nm, matched up to a four-speed automatic. For post-1990 models however, Mercedes-Benz fitted a twin-cam head on the 3.0-litre engine which boosted power levels up to 167kW and 273Nm. A five-speed automatic transmission was also added in for 1990-onward models.
This twin-turbo Mercedes-Benz 300 CE though, has received a completely new heart and character. Under the bonnet features a stroker 3.5-litre engine using a Mercedes-Benz C36 AMG crank. It also comes with twin T28 turbochargers, an intercooler, MicroTech ECU with eBoost2 electronic boost controller, a water methanol injection setup, and uprated Mercedes-Benz 500SL brakes and Koni suspension.
The owner says the twin-turbo Mercedes-Benz 300 CE was good for around 298kW at the wheels using a previous T2 twin-turbocharging setup. With a new twin T28 turbo setup, around 373kW (500hp) at the wheels is expected. This roughly translates to 448kW (600hp) at the engine. Acceleration from 0-100km/h is said to take under 4.0 seconds on 14psi.
The asking price for the very interesting and elegant Nineties twin-turbo Mercedes-Benz 300 CE is $59,000. Not bad considering the price of such a conversion, including the C36 AMG and other more expensive Mercedes-Benz components that are included.
Interested? You can check out the full ad simply by following this Carsales link for more details and images.