Chevrolet has applied a mild facelift for the 2020 Camaro. It receives a new front end inspired by the Camaro Shock concept unveiled at the SEMA show, as a response from customer feedback.
The facelifted design mainly applies to the front end. Avid Camaro fans will instantly recognise the changes compared with the 2019 model (below) which debuted about 12 months ago. While that previous model featured a blacked-out section throughout the entire grille area, the new model places a body-coloured bar through the middle.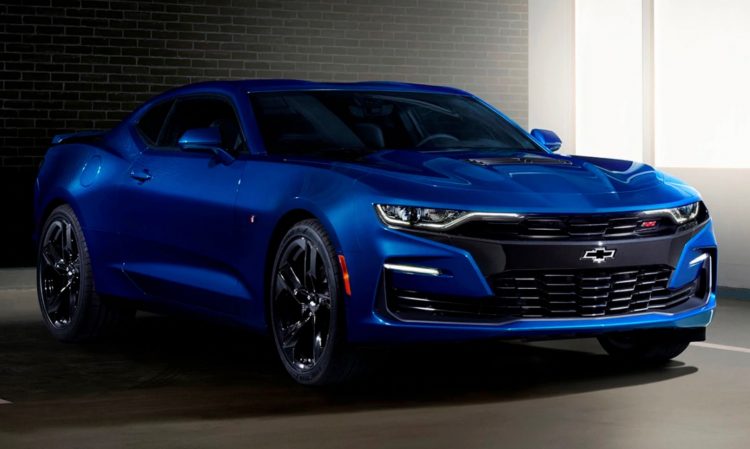 A repositioned bowtie badge now sits in the traditional spot too, between the headlights, as opposed to floating in the middle of the large black grille area before. This is all borrowed from the Camaro Shock concept, which apparently received overwhelming approval from fans. In a recent statement, Steve Majoros, director of Chevrolet passenger car and crossover marketing, said:
"Customers spoke, and we listened. The overwhelmingly positive reaction to the Shock's stylized design helped prompt its transition from concept to production."
Aside from the styling tweaks, the 2020 Camaro welcomes a new LT1 variant, which combines some of the features and design of the LT and SS. It's powered by a 6.2-litre V8 producing 339kW, and is available with either a six-speed manual or 10-speed auto. Coupe and convertible are also on offer for the LT1.
The 3.6-litre V6 engine option is now matched with a 10-speed auto in the LT models. The transmission is based on the 10-speed used in the V8 SS and ZL1, but calibrated to suit the V6's performance and power delivery. It continues to produce 250kW, which is enough to conquer 0-60mph (97km/h) in as little as 5.1 seconds. A 0-60mph time for the new 10-speed auto is yet to be confirmed.
Other updates for the 2020 model include a range of interesting options, such as a new Rally Green exterior colour option, a rear spoiler option for the LS and LT, dark-tinted taillights for the LS and LT, new 20-inch forged alloy wheels available for LT, LT1, and SS, and even Recaro seat options for the LT (previously only available with the 1LE).
Chevrolet says the new model will go on sale during the third quarter of this year. Production will take place at GM's Lansing Grand River facility in Michigan.