A 2012 BMW M6 Convertible has been spotted, completely undisguised at Bayonne Military Ocean Terminal in the US. This is the all-new version that will feature the 2012 BMW M5 twin-turbo engine.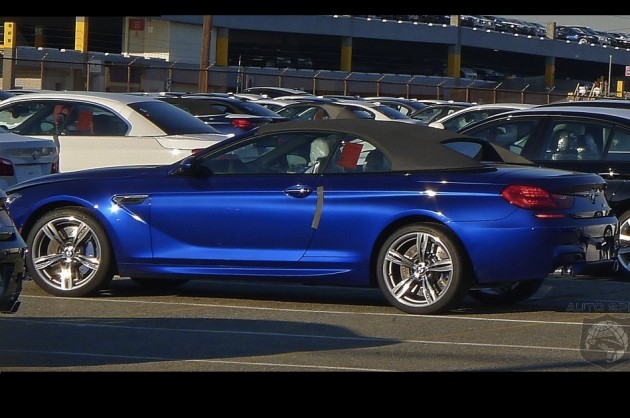 The images were taken by a journalist working for AutoSpies. Upon looking for a location to take photographs of his/her car, he/she stumbled upon the BMW-MINI loading dock. There sitting, near a range of spanking BMWs, including a 2012 BMW M5, was this 2012 BMW M6 Convertible.
According to the report, the colour is a bright metallic Le Mans Blue, garnished with shadowed alloy wheels. This is the first time, that we're aware of, that a new M6 has been spotted undisguised like this. There has been various spy shots of prototypes on the track, but nothing like this.
Telltale signs that this is indeed an M6 include the trademark quad-outlet exhaust pipes, the traditional 'M' side gills behind the front wheels, and of course the large, cross-drilled brakes. Front and rear bumper bars also feature bodykit extensions, matching the set of side skirts.
It is yet to be officially confirmed, but it is very likely the 2012 BMW M6 will feature the 4.4-litre twin-turbo V8 producing around – if not exactly – 412kW of power and 680Nm of torque as seen in the M5 sedan. (We say 'around' because it is possible output may be revised slightly due to minor changes, such as a different exhaust to suit the 6 Series chassis layout).
The 2012 BMW M6 could be unveiled in Convertible form initially, like the regular 6 Series was, some time next year.
Head over to AutoSpies for the full report and more images.