Lightweight sportscar maker Ariel and TMI AutoTech in the US have come up with a cracker of a car for track day enthusiasts. Introducing the Ariel Atom 3S.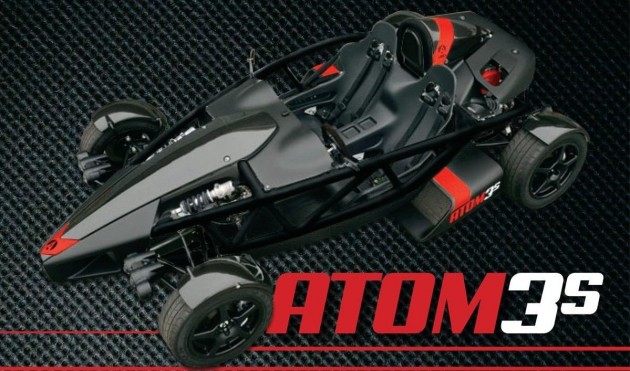 Ariel already has a number of versions of the exposed-frame Atom, including the range-topping Atom V8 with its twin Suzuki Hayabusa engines blended together to create a V8. This new version is the second most powerful behind that.
Resting just behind the driver's shoulder is a 2.4-litre Honda four-cylinder engine which is turbocharged. It produces an impressive 268kW of power and 420Nm of torque. These figures sound sweet for a full-bodied coupe or sedan.
In the extremely lightweight Atom frame, which weighs around 500-600kg, the Atom 3S can shuffle off from 0-100km/h in around 2.8 seconds (0-60mph), and it can run the quarter mile in just 10.7 seconds.
Helping to propel the little beast is a racing-type Sadev six-speed sequential transmission with steering wheel paddle shifters, sending energy into a rear-wheel drive setup. Ariel also offers less-serious transmission options for those who aren't looking to break lap records.
Other track-ready highlights include four-piston brakes at all corners, a digital dash, an adjustable traction control system for optimum diversity, and an adjustable suspension setup so drivers can perfect the handling for each track or road.
Prices for the new model kick off from US$89,750 and go upwards from there depending on what options you'd like, and depending on how much g-force and speed you can handle.
Check out the video below for a quick demonstration. It certainly looks like fun doesn't it?