There's a new king of kings that has just hit town. Specifically, the all-new Koenigsegg Jesko, which has just hit the town of Geneva for the 2019 Geneva Motor Show. Let's just get one thing straight from the start, this is set to be one of the fastest and most powerful production vehicles ever made, while debuting a number of industry and segment-first technologies. In other words, if you want the ultimate, exclusive hypercar, look no further.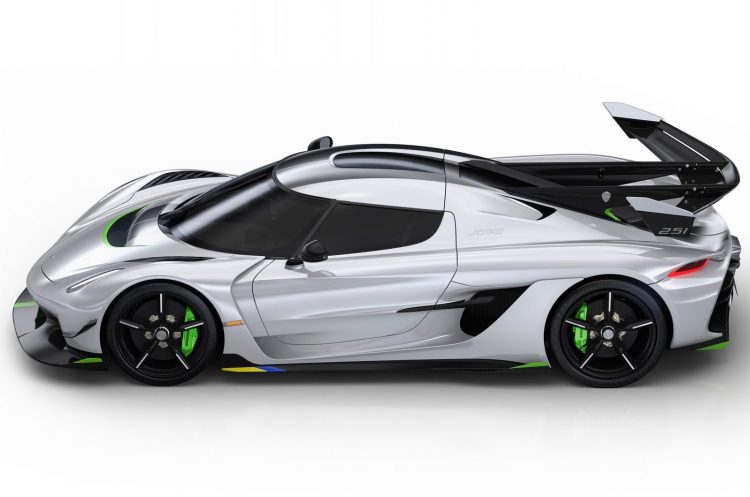 Koenigsegg is calling it an all-new "megacar". It comes in as the flagship track-focused yet road-legal vehicle for the company's showroom, essentially replacing the Agera RS as the new top dog. To give you an idea of the car's seriousness, it's named after the company founder's father, Jesko Koenigsegg. Founder and CEO Christian von Koenigsegg obviously considers it to be a prominent model in the company's iconic history.
Behind the cabin is a newly-designed 5.0-litre twin-turbo V8. The engine now uses a flat-plane crank, and features 'tumble valve' heads for the intake side to increase turbulence in the combustion chambers. The company says turbulent air burns faster, resulting in more efficient and complete fuel burn, and thus maximum power.
Unlike many twin-turbo setups, which incorporate a small and a large turbocharger to minimise lag while maintaining top-end power, the Jesko features a special air injection system with an electric compressor feeding air from a 20L carbon fibre tank directly into the two large turbochargers. The turbos feature unique patent-pending housings, and are able to pre-spool thanks to 20 bar bursts from the electric compressor, effectively eliminating turbo-lag.
The new engine also features a redeveloped fuel injection system with a world-first three injectors per cylinder. The third injector is placed in the intake plenum, just above the intake trumpets for each cylinder. This results in cooler cylinders and cleaner combustion, Koenigsegg says.
So, what's the result. On E85 fuel the engine produces 1600hp (1194kW). On regular petrol it produces 955kW (1280hp). Turbo boost pressure runs at 1.7bar (24.6psi)on normal fuel, or 2.2bar (31.9psi) on E85. Torque is lifted to 1500Nm over the predecessor as well. Oh, and the rev limit is extended to 8500rpm. According to Koenigsegg, this makes it the most powerful internal combustion engine ever fitted to a homologated production car. Acceleration and top speed figures are yet to be discovered, but the top speed is estimated by the company boss to be somewhere beyond 300mph (483km/h). Such a speed would put it into the world record books.
Matched up to the engine is an all-new nine-speed multi-clutch transmission that Koenigsegg is calling a Light Speed Transmission (LST). It uses several wet multi-disc clutches, allowing gear changes in virtually zero time, or, around the speed of light. Out on the road the company says the advanced and in-house built and designed unit offers totally seamless acceleration and deceleration. Koenigsegg explains:
"While modern dual-clutch transmissions (DCT) enjoy millisecond shift times, they can only pre-select for a fast shift in one direction. DCTs are designed to predict and pre-select the next gear based on inputs from the driver. If that prediction is wrong – e.g. the driver wants to shift from 5th gear to 4th, instead of the presumed and pre-selected 6th gear – the driver will experience G-force losses and a slow shift response."
Obviously a vehicle of this calibre needs to be well-sorted in the handling department, and needs some very advanced aero features to help keep it stable at crazy speed. Well, the Jesko has all of that covered. In fact, the company says the Jesko is able to generate up to 1000kg of downforce at 275km/h, and a maximum of 1400kg at extreme speed. Every single detail of the bodywork has been optimised for weight and aero benefit, and that includes the side mirrors which add 20kg of downforce alone while also directing airflow towards the rear.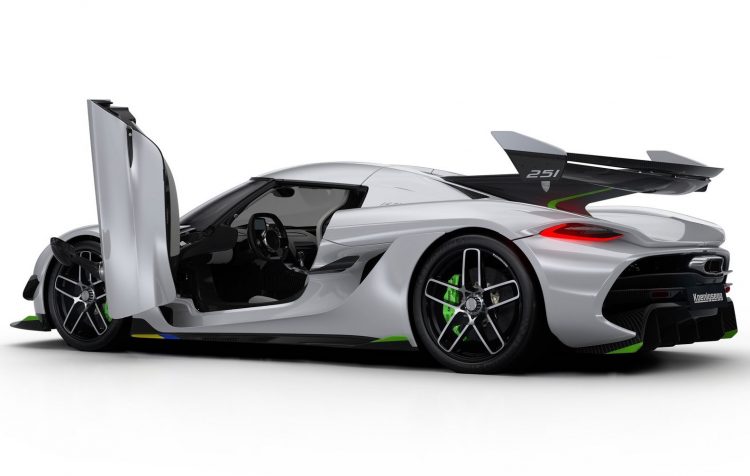 Handling comes thanks to a double-wishbone suspension setup at the front and rear, with carbon fibre upper wishbones for the rear, and electronically adjustable gas-hydraulic dampers. The ride height is also adjustable, and the driver can select between three traction control settings, including Wet, Normal, and Track.
Other interesting highlights, of which there are too many to list (you can read the full nitty-gritty details over at the Koenigsegg website here), include a kerb weight of 1420kg and dry weight of 1320kg. There's also an advanced 'SmartWheel' steering wheel with small touch-screens right there on the spokes, and of course Koenigsegg's awesome dihedral synchro-helix doors. The doors now open slightly more outward and upward for increased space and clearance from kerbs.
The Koenigsegg Jesko is on sale now from around US$3 million.