BMW Australia is introducing the new 2012 BMW 320i and 2012 BMW 318d, both featuring turbocharged four-cylinder engines. The two will form the basis of the entry-level range.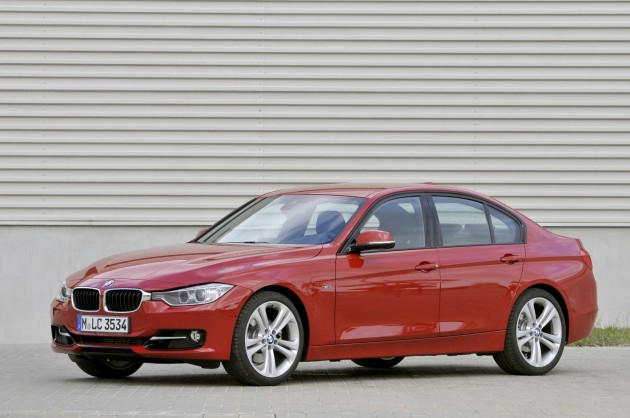 The 2012 BMW 320i comes with the company's new 2.0-litre TwinPower (twin scroll) turbocharged four-cylinder engine producing 135kW of power and 270Nm of torque, up from the current base model 320i which features a 2.0-litre naturally aspirated four-cylinder producing 115kW and 200Nm.
With help from a new standard eight-speed automatic transmission, the new 320i is able to crack 0-100k/h in just 7.6 seconds, a substantial improvement over the current model's time of 10.4 seconds. Meanwhile, fuel consumption is also improved, from 8.0L/100km to just 6.2L/100km.
For the new 2012 BMW 318d, the new entry-level diesel 3 Series, the premium sedan comes with a 2.0-litre turbo-diesel four cylinder producing 105kW of power and 320Nm of torque. Although the new 318d is less powerful than the current base model 320d (130kW/350Nm), it enters the lineup as the super-fuel-efficient variant, offering a consumption rating of just 4.5L/100km. Acceleration from 0-100km/h is still quite quick, achievable in 9.3 seconds.
Standard features for the new 2012 BMW 320i include BMW's iDrive system consisting of a full colour screen display, park assist, Bluetooth/USB/auxiliary compatibility, and electric seats. It also comes with an advanced cruise control system with brake function.
Set to launch in Australia in February with deliveries taking place in March, pricing for the 2012 BMW 3 Series range is as follows (excluding on-road costs):
BMW 3 Series Sedan Australian Pricing:
BMW 318d – $56,400
BMW 320i – $57,600
BMW 320d – $60,900
BMW 328i  – $66,900
BMW 335i  – $91,900
Trim / Equipment options
BMW 318d – Modern Line – $3900, Sport / Luxury Line – $4900
BMW 320i/d – Modern Line – $3100, Sport / Luxury Line – $4100
BMW 328i / 335i – Modern Line – $1000*, Sport / Luxury Line – $2000