At the same time that BMW unveiled its all new BMW M3 DTM Concept Car, Audi has revealed a rendering of its new 2012 Audi A5 DTM, codenamed the R17. The Audi A5 coupe will replace the current Audi A4 DTM race cars.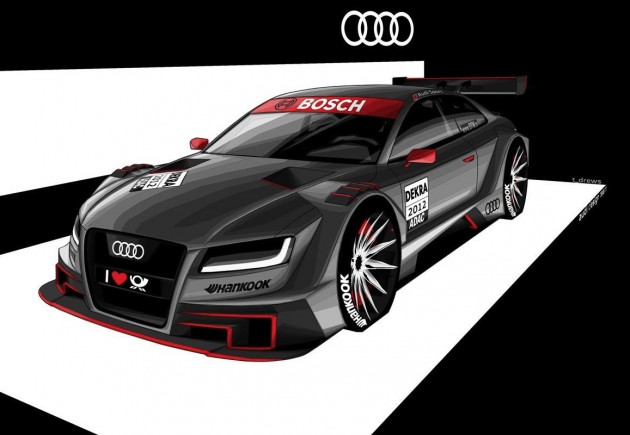 Audi hasn't revealed all the details on the new car but says it will provide even further safety compared with the current generation DTM cars. It will be built upon a full carbon fibre monocoque tub encapsulated by a comprehensive steel roll cage. Head of Audi Motorsport Dr. Wolfgang Ullrich recently spoke about the measures engineers went to in ensuring optimum safety. He said,
"Our engineers have been involved in bringing up safety in the DTM, which had already been high before, to the highest possible level. At higher speed lower deceleration is specified in order to protect the driver even better than before.

"To achieve this, a crash test with the whole vehicle is now prescribed for the first time as well – according to FIA standards with 14 meters per second forward and backward against a rigid wall. In the past, 'only' the front and rear crash elements had to be driven against a wall with a sled."
As for the engine, the new Audi A5 DTM car will be powered by a similar V8 unit to the current Audi A4 DTM cars, outputting around 340kW.
Even though the rendering pictured here is based on the outgoing Audi A5 model, Audi insists the eventual race car will be based on the new 2012 Audi A5 facelift.
The new Audi A5 DTM car will be officially unveiled in full at the 2011 Frankfurt Motor Show in September later this year. We look forward to bringing you the all the coverage.
In the meantime, feel free to tell us what you think of the new design. We hope the finished product looks very similar.