Bulgarian tuning and restoration specialist Vilner has just put the finishing touches on what can only be described as a masterpiece, based on a 1990 BMW E30 M3.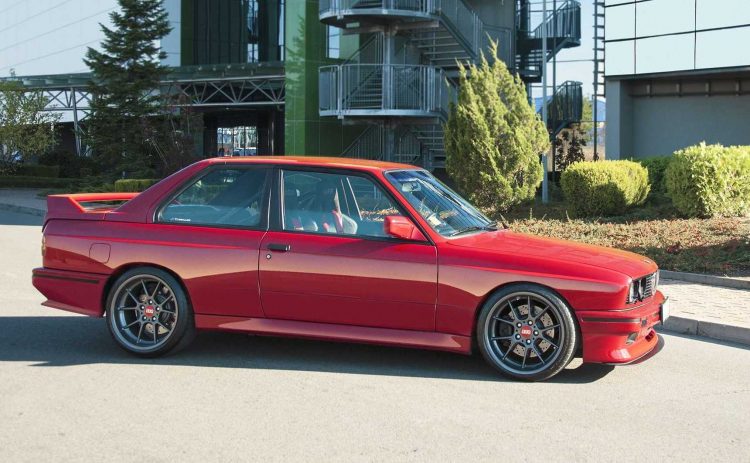 It might look like an ordinary, albeit immaculate, E30 M3, but it's actually been extensively overhauled and modified. On the outside Vilner has managed to source some panels from the rare Evolution II model, while the front bumper bar is a custom job made from carbon fibre.
The immaculate body is coated in Imola Red II, and the lights are tinted for that sinister look. You'll probably notice the very cool BBS 18-inch alloy wheels, too. These seem to suit the style of the retro sports car perfectly, and they're finished in dark grey to match the tinted lights and so on.
Vilner is perhaps best known for creating custom interiors. So, opening the door on this is like opening the door to heaven. It's just perfect. You've got the period tartan cloth for the seats and door trims, yet the bucket seats are modern and feature four-point harnesses. Most of the fixtures remain as original though, such as the location of the gear shifter and the dash facia.
Take a closer look and you'll see the custom handbrake lever and its exposed linkages, while the floor is decorated in perforated steel mats. Look even closer and low and behold, every detail is presented like it just rolled out from the BMW factory. It's immaculate.
The fun doesn't stop at the cosmetic side of things. Lift back the reverse-hinge bonnet and you'll see something very unique. Out is the old S14 2.3-litre four-cylinder and in is the S50 3.2-litre inline six from the E36 M3. In standard form this unit produces 236kW. This should be more than enough oomph for the little E30.
When it comes to driver's cars, the E30 M3 is regarded as one of the all-time greats. Here, Vilner has improved on the original formula without losing the trademark characteristics. Check it out in the gallery below. For more on the E30 M3, you can head over to our special feature story and 0-100km/h video here.