While the 2018 Lexus LS 500 has already been revealed, earlier this year, the company is planning to debut the new LS 500h hybrid version at Geneva.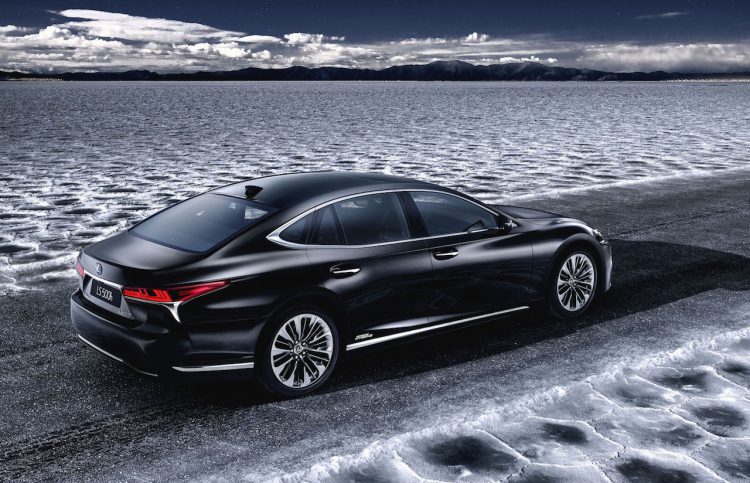 As we found out at the Detroit auto show earlier this year, Lexus has developed a brand-new 3.5-litre twin-turbo V6 for the LS. This engine is likely to trickle its way down into '350' models, such as the GS 350.
For the LS 500, the turbo unit develops an impressive 310kW of power and 600Nm of torque. This is sent through a 10-speed automatic transmission that also debuts in the LS.
Lexus hasn't confirmed much for the LS 500h at this stage, but it does say it will be the flagship. This suggests an electric hybrid system will supplement the twin-turbo V6, potentially providing above 350kW.
Given the outgoing range-topper, the LS 600h, comes with a 5.0-litre V8 hybrid generating a combined output of 327kW, we see no reason why the new version won't be able to trump this.
Unfortunately for driving enthusiasts, the hybrid option might drop the 10-speed auto and instead implement a CVT auto like in the outgoing LS 600h. Lexus – and Toyota – uses a CVT auto for all of its hybrid models. However, the 2018 LS will be underpinned by the fresh GA-L architecture (Global Architecture-Luxury). Lexus promises it will deliver "unprecedented agility and comfort."
Lexus Australia says the new LS will arrive locally early next year. During 2016, the local arm sold just 20 examples of the LS, down from 27 in 2015. It held a 2.3 per cent share of the large above-$100k market segment. This new model should help to turn that around.
All will be revealed on March 7 at Lexus's all-new stand which is set to showcase the brand's trademark quality and craftsmanship.