The wagon version of the mental Volkswagen Golf R, as previously reported, has been officially revealed. It's called the Golf R Variant and it will make its public debut at the 2014 Los Angeles Auto Show just getting under way now.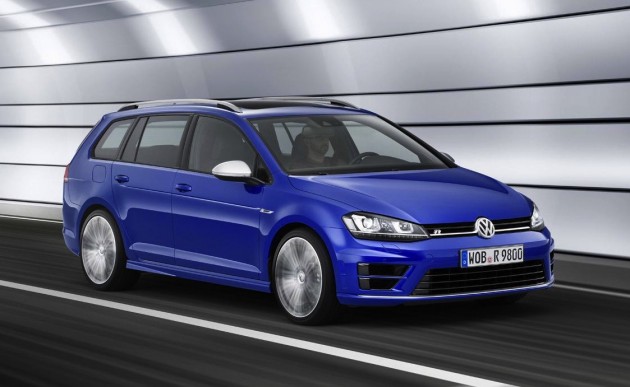 For performance enthusiasts and driving fans, the VW Golf R is one of the must-have everyday models currently on sale. It's the flagship Golf and the quickest car Volkswagen currently offers in Australia. Now in wagon form, it becomes an even more attractive proposition.
Under the bonnet sits a 2.0-litre turbocharged petrol four-cylinder producing 221kW of power (detuned to 206kW in Australia) and 380Nm of torque. The grunt is sent through an all-wheel drive system and six-speed dual-clutch automatic transmission.
Out on the tarmac the Golf R Variant is able to demolish 0-100km/h in just 5.1 seconds. Despite the added room and practicality, the R Variant is only 0.1 second slower than the regular five-door hatch with the DSG auto. The top speed, like the regular version, is limited to 250km/h.
Aside from the potent powertrain performance, the Golf R Variant differs from the regular Golf wagon via a unique bodykit and sporty trimmings. There's a neat diffuser at the back, a more aggressive front bumper bar and larger intakes, a unique grille, and a set of 19-inch alloy wheels hiding serious brakes.
Passengers are treated to a plush interior decor, with lots of Alcantara (or optional leather) used for the seats and doors, with highlighted crystal grey stitching. The seats are well-bolstered sports items in the front, with a similarly contoured bench in the back.
This should be a popular item among car fans when it arrives. Volkswagen is planning to launch the new version in Europe during the first half of next year. VW Australia is yet to confirm the model for the local market, but if it is eventually confirmed it will likely join the range later in 2015.