The successor to the Volkswagen Passat CC (later called CC) four-door coupe has been depicted in a sketch released by the company today.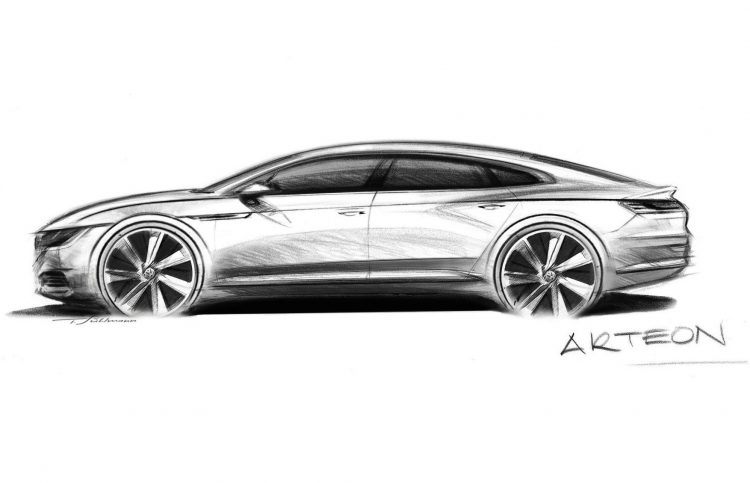 The CC name is gone, replaced by 'Arteon', which is the production follow-up to the Sport Coupe Concept shown at last year's Geneva Motor Show. The same venue will host the debut of the Arteon this coming March.
The concept was 4869mm long, 1864mm wide and 1407mm tall – all larger than the Passat it is expected to be based on, with its 2841mm wheelbase representing a 50mm stretch. The concept was powered by 220kW 3.0-litre turbo V6, possibly from Audi, with two electric motors upping that figure to 283kW. The production Arteon is expected to feature a range of petrol and diesel engines, like its predecessor.
Like the concept, it's set to feature a new grille treatment with 3D LED lights front and rear. These are said to "emphasise the striking layout and demonstrate dominance", Volkswagen said.
Judging by the sketch, entry, egress and headroom at the rear will be improved thanks to a six-window design. The car has defined haunches too, in the style of a Jaguar F-Type. Volkswagen's Tobias Suhlmann from the exterior design department muses:
"At first sight, the Arteon arouses enthusiasm through its expressive design. It then surprises through its practical virtues."
Strong promise indeed and we will find out if the Arteon lives up to it – and if it has a chance of coming to Australia – at the 2017 Geneva Motor Show next March.