Old-school anything is normally a sure-fire way to go if you're after a really cool item. Singer Design, an avid Porsche enthusiast company, is making original Porsche 930 911s new again. The company does this by completely restoring donated shells and converting them into awesome classic exotica like what you see here.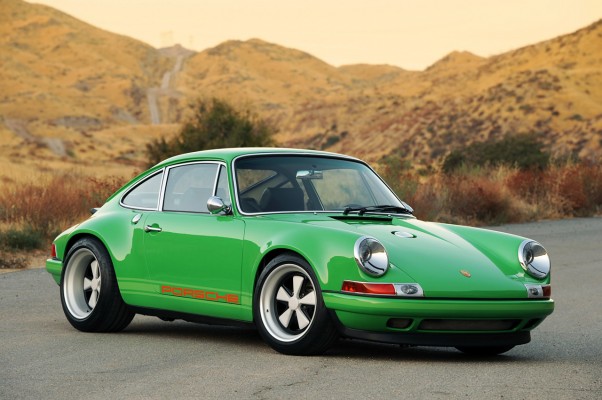 Singer Design starts with a per-1994 930 or 964 Porsche 911. This is then completely stripped back and rebuilt to suit your custom tastes. The example we have here comprises of all of, what are generally considered, the best bits taken from from some of the greatest 911s in history. There's the traditional Fuchs wheels, deeply dished at the rear.
These rims are actually custom made and measure 17 x 9 inches on the front, and 17 x 11 inches on the rear. So there are actually quite modern in regards to the size, which gives the car a newer look while still being retro. Then there's the ultra-cool chrome details, such as the slim door handles, chrome rings around the headlights and the bullet-style side mirrors.
The same treatment is applied to the interior. There's Recaro seats covered in a cross-stitched leather pattern, while an era-matched steering wheel and dashboard remains in place. Everything is new though, so you don't need to worry about things breaking – not that old Porsche's are known for falling apart; most are virtually indestructible. Singer Design even goes to the length of providing creature comforts too, such as iPod-connect stereo gear and satellite navigation.
Singer Design doesn't stop with the cosmetics though, because even though each panel looks like it comes directly from the Seventies in the best possible way, most of them are made entirely of carbon fibre. This means the car is able to be extremely light in weight, tipping the scales at just 1088kg.
Under the retractable 'duck tail' style adjustable rear spoiler, another blend of modern functionality and retro design, sits a 3.8-litre flat six engine taken from the Porsche 993 911. The unit is rebuilt and finely tuned, incorporating six individual throttle bodies, larger head gear and a Porsche 911 GT3 crank. All up, the thing churns out 306kW-solid.
As you'd expect, from the power to weight ratio, performance for the Singer Design Porsche 911 is through the roof. Singer Design say the car is capable of sprinting from 0-100km/h in 3.9 seconds, while top speed is somewhere around the 270km/h mark. Not too shabby indeed.
Prices are fairly reasonable for a fully rebuilt, utterly epic classic like this, starting at around $200,000 US. Take a look at the video below for a bit of a walk-through over the philosophy of the car by CarCast. The video includes insightful views from the Singer Design creator, Rob Dickinson. There's also a bit of a taste of what the car sounds like as he fires it up.