Japanese tuning firm HKS has just posted up a new video showing the Toyota GT 86 on the dyno. It churned out 172PS (127kW) at the wheels.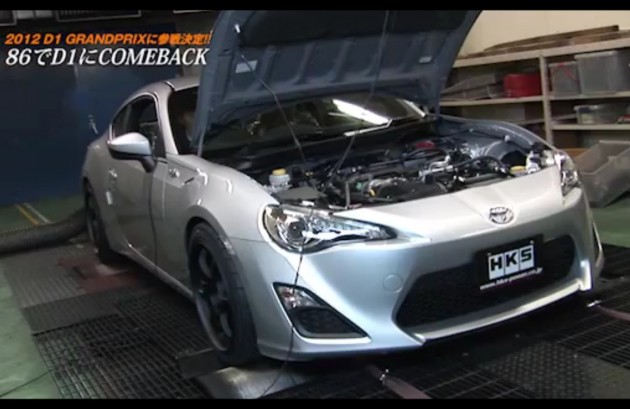 In standard form, the all-new Subaru-Toyota joint project GT 86 comes with a naturally aspirated 2.0-litre Subaru boxer engine producing 147kW of power and 205Nm of torque.
All factory power figures are taken from the engine. As a general rule of thumb, the drivetrain usually saps around 20 per cent of the engine's power. With this in mind, the calculation translates to what should be around 117.6kW at the wheels for the Toyota 86 on the dyno. So in actual fact it produces slightly more. (Of course, every dyno is different and figures do vary.)
It's quite usual for some factory cars to produce less power than what is quoted, as every engine is built slightly different. Some manufacturers, however, under-quote figures. A common one is Nissan with the previous model GT-R. It was rated at 206kW, but many dyno runs have proved it produced a lot more than this.
The 2011 Ford FPV GT fitted with the new Coyote 5.0-litre supercharged V8 is another one. It's quoted at 335kW, however, dyno runs have shown figures that are closer to that at the wheels.
HKS seems very excited about the new GT 86. The company will be taking part in major drift events this year using a modified version with one of its factory drivers – Nobuteru Taniguchi – behind the wheel.
Click play on the video below for the dyno run and a review with Nobuteru Taniguchi. There's also some testing footage of the HKS Toyota GT 86 drift car after the run.
It is in Japanese but we get a taste of what the new coupe is like when pushed, in manual and auto form. (The dyno run footage starts at 6:00.)
The Toyota 86 will launch in Australia in June-July this year. Prices will start with a '3' – expected to be around $39,990.