No other car on the market creates a buzz quite like the R35 Nissan GT-R. Not in our opinion anyway. We've had more review requests for the GT-R than any other car. And out on the road, nothing else we've driven has ever provoked so many of the old shaka signs of respect from onlookers or attracted more selfie pleas. So, what's so special about it?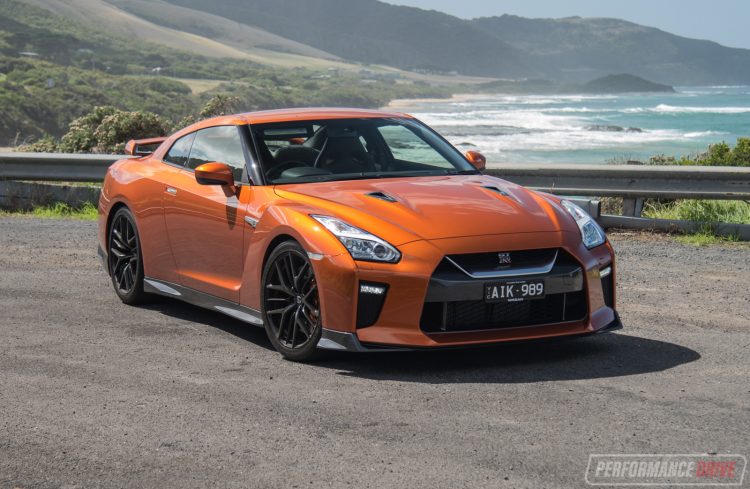 For starters, the GT-R's legend spans back to 1969, with each generation attracting its own swarm of fans – it's now in its sixth generation. Nissan has been introducing an update for this R35 shape about every year, extracting more power from the 3.8-litre twin-turbo V6, and creating more aero downforce from the body and underbody, while packing it with more technology. Fans look forward to each update like Apple fans look forward to the next craze.
For the latest version, known as the MY17 in Australia, it's more powerful than ever, producing 419kW and 632Nm. It still comes matched to a six-speed dual-clutch transaxle transmission like the first R35, along with Nissan's famously rear-biased ATESSA all-wheel drive system.
Prices have been slowly creeping up since the R35 was first introduced here in 2009, from $155,800, to $189,000 for this latest entry-level GT-R Premium. Buyers in Australia can choose between the Premium (as tested), Premium with the luxury pack ($195,000), and the Track Edition ($227,000). Those wanting even more also have the Nurburgring-conquering Nismo version from $299,000. (All excluding on-roads.)
2017 Nissan GT-R Premium – THE SPECS
Engine: 3.8-litre twin-turbo V6
Output: 419kW@6800rpm / 632Nm@3300-5800rpm
Transmission: Six-speed dual-clutch auto
Drive type: All-wheel drive
Wheels: F: 20×9.5, 255/40  R: 20×10.5, 285/35
ANCAP: Not tested
Tare weight: 1717kg
Power-to-weight: 4.09:1 (kg:kW)
Official fuel economy: 11.7L/100km
Economy during test: 13.8L/100km
Fuel capacity/Type: 74L/98 RON
Power efficiency: 35.81kW:L/100km
0-60km/h: 1.75 seconds*
0-100km/h: 3.27 seconds*
60-110km/h: 2.03 seconds*
1/8 mile: 7.44 seconds at 162.9km/h*
1/4 mile: 11.40 seconds at 199.3km/h*
100-0km/h braking: 2.99 seconds at 38.74 metres*
Decibel at idle: 55*
Peak decibel at 60-100km/h: 93*
Priced from: $189,000
* Figures as tested by PerformanceDrive on the day. Factory claims may be different

2017 Nissan GT-R Premium – THE PACKAGE
Starting with the cabin. On first impressions, the interior design and overall arrangement of fixtures and buttons certainly doesn't scream 'special' or 'supercar'. It's mostly mono-tone black plastic, like a conventional Japanese hatch, and most of the buttons and controls seem like they were designed out of necessity rather than aesthetic pleasure.
Sure, there is some carbon fibre for the centre console (new for MY17) and the seats are covered in quality soft leather, with plenty of bolstering to support you in the bends. But the overall conviction isn't all that super. In our opinion anyway – we're sure there will be plenty of fans ready to smash away on the keyboard.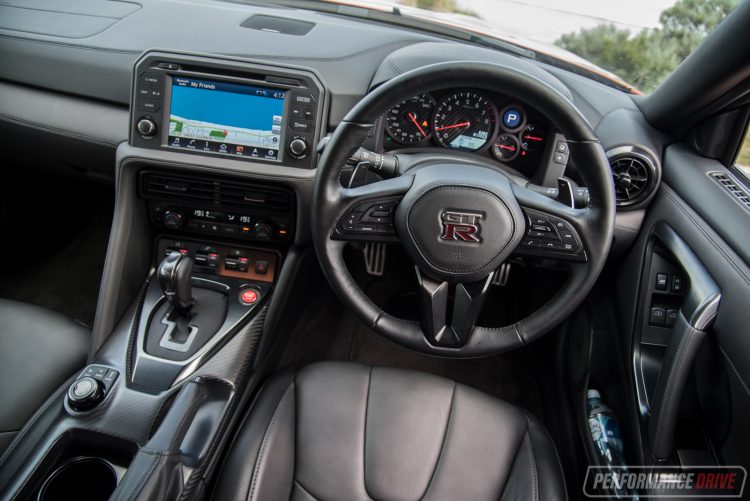 Nissan has cleaned up the dash for MY17, reducing the number of buttons from 27 to just 11, mostly thanks to a big new touch-screen media interface. It's not bad as a unit, but hardly ground-breaking in terms of menu functionality compared with what's out there in cars of this price (and much less). The navigation wheel down on the centre console, added for this model, is a nice touch and seems to be of higher quality for some reason. The way it feels and turns is like it's more modern than the rest of the controls.
Seating is great though for the front passengers. Especially the driver. You get an instant rapport with the car through the driving position, with the steering wheel sitting near-vertical and right at your chest, and the seat is nice and low and centered. Pedal placement is also perfect, with enough room for a footrest during cruising. Headroom and legroom is more than adequate, and in fact above class standards if you compare it to most super sportscars and supercar rivals.
In the back it's much more confined. There are two seats in there somewhere, and they look pretty accommodating as you peer through. But as soon as you try and slot into them it becomes apparent this is really only meant to be a two-seater, or a 2+2 for the kids, at most. The kids will love the booming Bose sub-woofers that are mounted where a middle seat usually resides, presenting a radical Hot Wheels/Fast and Furious kick.
A conventional boot at the back is where the GT-R really pushes ahead, and perpetuates its 'everyday supercar' tradition it has been holding since the first generation back in the Sixties. It's large, much larger than any other offering in this market space. Nissan claims it's able to swallow 315 litres worth of things.
Okay, so the interior isn't all that special (again, in our opinion when compared with similarly-priced rivals), but it does the job. You sit nicely inside and there's plenty of standard features for a modern car, including power seats, dual-zone climate control, a rear-view camera, and a number of exciting "R" driving modes. However, what this car is primarily about is driving. If you want a GT-R because you like driving – and driving fast – that's where it will impress you the most. So let's go and do that.

2017 Nissan GT-R Premium – THE DRIVE
Before we start it, let's check out what's new under the skin for the 2017 model. Nissan engineers have upped the turbo boost pressure and introduced a new ignition timing system that now controls each individual cylinder – taken from the Nismo version. These changes help to see output lifted from 404kW to 419kW, and torque is lifted from 628Nm to 632Nm. It's not a massive increase but Nissan says the hand-built engine is cleaner-burning and more efficient at producing maximum power, with the same 11.7L/100km average consumption carried over despite offering more oomph.
Peak power is now achieved at 6800rpm instead of 6400rpm, providing a peakier and more exciting experience, while max torque is spread from 3300-5800rpm instead of 3200-5800rpm. All of the awesome geeky stuff carries over too, including the plasma-coated cylinder bores for reduced friction; the symmetrical intake and exhaust manifolds; a thermostatically-managed oil-cooling system; and a lateral wet and dry sump lubrication setup. New for 2017 is a titanium exhaust actually, which is sure to go down well with tuning fans.
From there the six-speed dual-clutch auto gets some revisions as well, aimed at improving refinement. The company says special concentration was placed on smoothing out the automatic shift from first to second gear. Light throttle and initial acceleration has been altered too, with no temporary lift in engine torque as previously engineered. All power is sent down the main driveshaft to the gearbox mounted at the rear axle, and another carbon fibre driveshaft sends power back up to the front axle via Nissan's renowned ATESSA E-TS system. Nissan says in normal conditions the torque-split ratio is 0:100 front:rear, and adjusts automatically up to 50:50 depending on the demands and conditions, and driver mode preference.
On start-up the engine definitely makes some intriguing whirring tones and deep baritone notes, in Skyline tradition. The twin-turbo V6 sound doesn't offer the charisma and crackle of the old-school RB-series straight-six engines in our view, at least at high revs, but at idle and anything below 5000rpm, fans will be pleased. It's distinctive and seductive, and you can immediately tell this is a GT-R just from the engine noise.
Nissan has fit a sound enhancer system in the cabin for 2017, which amplifies the engine sounds electronically. We're not sure why this is fitted. This is a masterpiece of an engine, producing huge power from high-boost turbocharging; normally a recipe for a cracking engine note. We suspect in order for the GT-R to pass ever-tightening emissions laws, especially in the US, engineers had to fit up a heavily-baffled and restrictive exhaust system. The engineers probably thought the sound needed to be louder in the cabin because of this.
Well, it sure is loud. During our usual tests with our decibel gauge, full-throttle 60-100km/h recorded a max reading of 93dB. This is very high, particularly for a six-cylinder. To give you some idea of this noise level, you'd need to be in a Lamborghini or V8 Jaguar to experience something similar. At idle it's a more relaxed 55dB, with that trademark bassy undertone as mentioned.
Pull the manly gear shifter down into drive and you'll hear the gear shift rods making some clatter and clunk as the rear-mounted gearbox makes a selection. It reminds us of a full-blown race car, the way it does this. Nissan says it has refined the driveline to reduce noises and vibration, but there's no getting away from the fact this is basically a racing car for the road. It's exciting.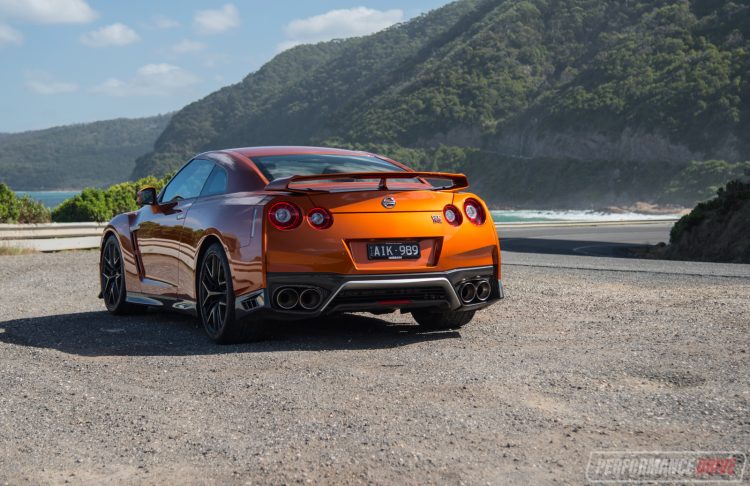 Nissan Australia warned us not to take this test car to a dedicated race circuit, but we did have the opportunity to test the beast on the Great Ocean Road down in Victoria. Here, it's just a walk in the park for the R35. The GT-R has such long legs and huge power reserves that it makes mince meat of the straight bits, building speed and carrying momentum like a missile. And then you can fire away at downshifts as you lean into the corners, and do it all again. The sensation and engagement of it all is surreal. It's like playing an awesome PlayStation game, with real-life graphics and a g-force simulator.
In this environment the GT-R is unbelievably fast, and it shows you its astonishing dynamic ability. There is some noticeable turbo-lag that you have to account for, but once you understand it and work the gears around it, it's a machine of a car. You need to remain very alert and keep an eye on your speed, too. You also need to look well ahead before unleashing anything more than 50 per cent throttle, as that horizon will soon be right in your face.
On a private road we timed 0-100km/h in 3.27 seconds and the quarter mile in 11.40 seconds. Nissan claims 2.7 seconds to 100km/h, but we can't see this happening without some level of weight reduction and super-high octane fuel. There's no traction issue off the line, and the factory launch control system is incredible. But we simply don't think there is enough instant power to reach the magic century in 2.7. Even so, 3.27 seconds is insanely quick.
Around corners the GT-R is very solid and stable throughout a wide range of speeds, with big long sweepers being its forte. There is some gentle understeer during mid-speed bends and when rolling into corners without brake or throttle, but this can be sorted out with a bit of throttle. In fact, the ATESSA system can help the GT-R power-oversteer if you want it to, kicking the car out and into a proper four-wheel-spinning drift.
In our opinion, it all performs best when you're hard on the brakes coming into corners, getting weight to shift down onto the front end, and then use the mid-range torque and the all-paw grip to slingshot through the exit. Any movement or sliding can be countered immediately (if you want to), thanks to a superb, mechanical-feeling steering setup.
The Bilstein-developed DampTronic adjustable suspension system is suitably firm with very little body roll. There is a comfort mode which does help to make the ride more comfortable on regular roads. Being so stiff and focused though does put a lot of pressure on the tyres. This is probably going to be a big claim but we think the standard Dunlop SP Sport Maxx GT 600 tyres aren't perfectly suited to the car. Maybe it's the roads we drove on or maybe the tyres really excel in the wet, but we think it would be interesting to see how it performs with different setups.
When you're not driving hard the GT-R can be one of the most civilised supercars around. The gearbox, in auto mode, likes to hunt straight to sixth gear resulting in delayed overtaking performance. However, the engine has plenty of torque to pull through in normal circumstances. The cabin is pretty quite and relaxed as well, with low wind noise and good visibility all around.

2017 Nissan GT-R Premium – THE VIDEOS
2017 Nissan GT-R Premium – THE VERDICT
We probably wouldn't change anything about this latest R35 GT-R. It's crazy-fast along a mountain road, up or down, and it behaves like a true driver's car, doing exactly what you tell it to do. We think if Nissan made the car any more advanced or infused more driving aids into it the traditionalists and those who follow the icon would probably get upset.
We love that it still has turbo-lag and that the gearbox makes noises when you're rolling around. We also like the fairly basic interior as sometimes supercars can be overwhelming or awkward to drive purely by the interior setting. Instead, the GT-R has always been about being a supercar that can be used every day. And that's exactly what this latest version offers. Long live the Godzilla.
PROS:
– Legendary status
– Manipulable ATESSA AWD system
– PlayStation-game handling (very predictable)
– Off-the-mark acceleration
– Front-seat cabin space and comfort
– Range of improvements for MY2017
– Stands out on the road (especially in Blaze Metallic)
– Value for money (at this performance level)

CONS:
– Engine sound at higher revs
– Disruptive turbo-lag
– Transmission in auto mode clunks and delays
– Pretty basic cabin (for price)
As always, if you're thinking about buying a new car don't forget to click here to speak with our car buying specialists.