The Infiniti QX80 is the biggest, most powerful, and most expensive vehicle the brand offers in Australia. It's based on the Nissan Patrol, only it comes with a massive collection of luxuries and comfort-focused gadgets. We're currently test driving the 2015 model beast, which was only launched in Australia earlier this year.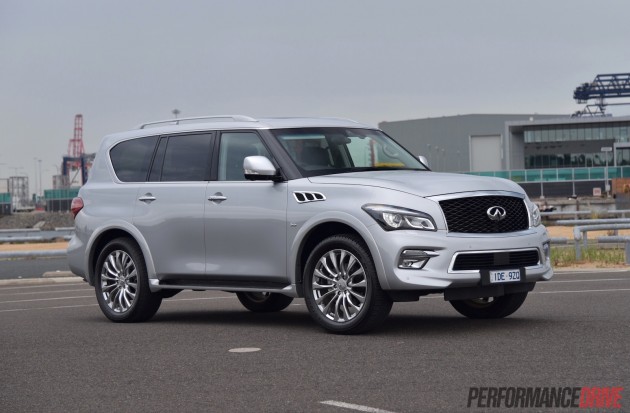 On first impressions, the 'VK56VD' 5.6-litre V8 engine is a brilliant bit of kit. It thumps and rumbles all the right noises, and belts out 298kW and 560Nm. It's also capable of hitting a 6200rpm redline. We love the engine, and the swift-shifting seven-speed automatic transmission that it's connected to.
What we don't really love is the design and the front end. Part of this is because the QX80 is actually around five years old. You see, it's been on sale in the US and in other markets since 2010-2011 in the same form, previously known as the QX56. This means although it is new for Australia the design was penned in the distant past.
Fortunately, the rest of the vehicle showcases fine luxury and a high quality prestige presence. It handles very well for such a large monster as well. Check out our quick point-of-view test drive video below for an overview. We'll be putting together the full written review soon, including our usual 0-100km/h performance video.