The special Ferrari model previously talked about, designed to celebrate the company's 60th anniversary operating in America, has been revealed. It's called the Ferrari F60America.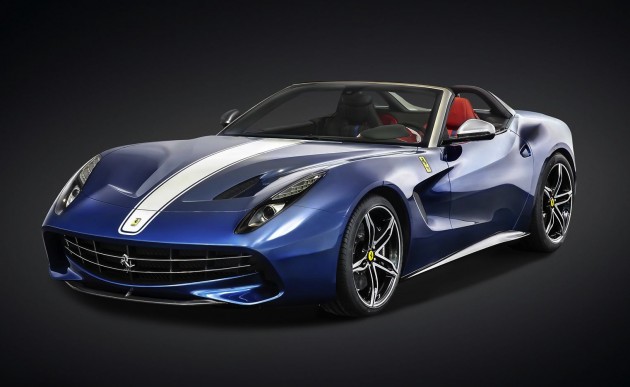 Ferrari said a few weeks ago it would introduce a bespoke model for the US market, and this is it. It's based on the F12berlinetta, with unique panels and no roof. The special edition is also inspired by the 1967 GTS-4 NART edition which was also created to celebrate the company's presence in the US market.
As you can see, the F60America gets a unique bonnet with vents, a single-tier front grille with chrome trimmings, and of course the removed roof with exposed roll bars dressed in carbon fibre. The rear also incorporates unique buttresses that blend in to the roll bars, and a chunky diffuser underneath.
Inside has been customised appropriately, with the American seen on the seats with lots of red leather, as well as a special lightweight fabric roof which can be installed if the weather turns ugly. Owners must be warned though, the roof is only capable of withstanding 120km/h.
Under the bonnet sits Ferrari's most powerful engine ever fitted to a production Ferrari without assistance from a turbo or electric hybrid system. It's a 6.3-litre V12 unit producing an incredible 545kW of power and 690Nm of torque. Acceleration from 0-100km/h comes up in just 3.1 seconds.
Ferrari is planning to make just 10 of these exquisite editions. Unfortunately for those interested in purchasing one, they have all been sold already. It will make its official debut this weekend at a gala dinner at the Beverly Hills City Hall.