The 2017 Ford Everest is the only Australian-designed SUV in its class, with all major design and engineering work carried out by the Asia Pacific regional headquarters in Campbellfield, Victoria.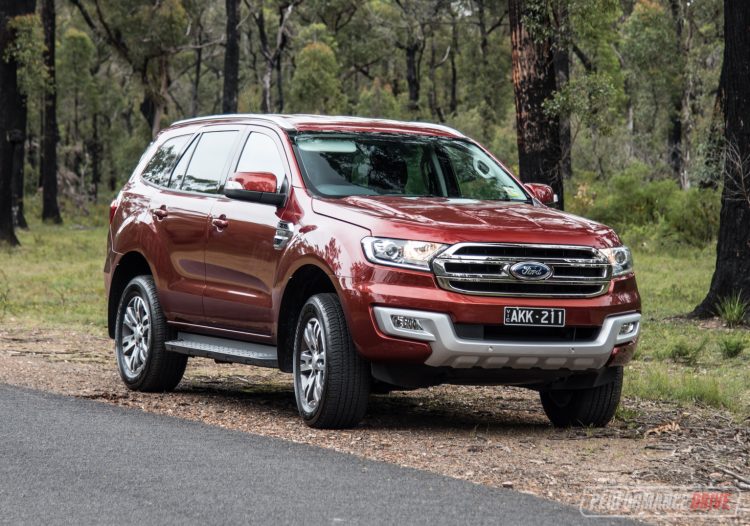 It may be surprising to learn, then, that the Everest's sales performance has been less than stellar since its 2016 launch, improving only after a mild update in April of this year. After a spec adjustment, lower entry price, and new variants were added, Everest began to increase its bite of the Large SUV pie, overtaking Toyota Fortuner and Holden Trailblazer. It is still well behind Pajero Sport, Prado and Isuzu MU-X in terms of sales.
As we learnt when we spent a week with the RWD Trend variant (priced from $53,990), it is a very impressive vehicle for many reasons. We think it deserves more attention from the market, particularly now that it's available from a starting price of just $47,990 for the base model.
2017 Ford Everest Trend – THE SPECS
Engine: 3.2-litre turbo-diesel five-cylinder
Output: 143kW@3000rpm / 470Nm@1750-2500rpm
Transmission: Six-speed auto
Drive type: Rear-wheel drive
Wheels: F & R: 18×8.0, 265/60
ANCAP: Five stars (scored 35.98 out of 37)
Tare weight: 2253kg
Power-to-weight: 15.75:1 (kg:kW)
Official fuel economy: 8.4L/100km
Economy during test: 10L/100km
Fuel capacity/Type: 80L/Diesel
Power efficiency: 17.02kW:L/100km
0-60km/h: 5.10 seconds*
0-100km/h: 11.34 seconds*
60-110km/h: 8.45 seconds*
1/8 mile: 11.68 seconds at 102.0km/h*
1/4 mile: 18.03 seconds at 124.5km/h*
100-0km/h braking: 3.22 seconds at 41.11 metres*
Decibel at idle: 44*
Peak decibel at 60-100km/h: 77*
Priced from: $53,990
* Figures as tested by PerformanceDrive on the day. Factory claims may be different

2017 Ford Everest Trend – THE PACKAGE
The Everest is a very rugged, handsome and confident-looking SUV. To us, the proportions, muscular lines and prominent grille make it look like a VW Touareg rival rather than a workhorse ute-based wagon. It seems to represent the brand in a tough way, like the ladder-framed Explorer did in the 1990s.
The interior, with its 8.0-inch touch-screen, colourful twin TFT displays in the instrument binnacle and leather dashtop, does a superb job of masking its commercial origins. In our view, it has a more premium ambience than Fortuner, Prado, Pajero Sport or MU-X. The Everest is equipped with Ford's SYNC 3, which is the latest-generation infotainment system.
Highlights include excellent visuals, a navigation system that deftly integrates live traffic information and outstanding audio quality. One downside, in our opinion, is the complexity of operating controls such as climate, digital radio stations and even the non-qwerty keyboard of the sat nav. When you're in charge of a 2.4-tonne projectile, less distraction is imperative. Best to get familiar with the voice commands to sidestep this issue.
Everest serves up an impressive array of active driving aids and safety equipment. Radar cruise control, active lane keeping, forward collision warning and auto high beam are all sophisticated additions.
Space for all seven occupants is good, with the added bonus of a well-executed flip-forward mechanism for the second row – unlike Pajero Sport, for example. Climate control through vents in the roof means back seat travellers don't feel like they're travelling economy class.
In terms of measurements, the Everest is 4892mm long, 1860mm wide, 1837mm tall – of which 225mm is ground clearance. It's a heavy mongrel too, with even this rear-drive Trend tipping the scales at 2305kg (kerb). Add another 102kg for the 4WD model, which is $5000 extra, and you get a car that is some 182kg heavier than the Prado GXL. The $76,705 Titanium comes in at 5kg under the 2.5-tonne mark. Towing capacity is 3.0 tonnes, while the ANCAP rating is five stars.
Given that this model isn't equipped with the switchable off-road modes of its 4×4 brother, why would you go for a heavy, ladder-framed 2WD truck when there are plenty of car-based alternatives still up for grabs?

2017 Ford Everest Trend – THE DRIVE
Because this doesn't feel like a heavy, ladder-framed truck at all. Granted, there is a bit more wheel-twirling to do compared with a regular car, but it feels solid as a rock and surprisingly well balanced.
The high-up seating position instils confidence, while Ford Australia's engineers have done a stellar job of masking the car's mass. It is far more nimble and placid than you might expect a behemoth like this to be.
The spirit of the Falcon and Territory, which both garnered accolades for the way they drove, is well and truly alive in the Everest. The steering is light and you can feel what the front end is doing, which gives the SUV great high speed stability. Like those cars, it soaks up bumps with minimal cabin intrusion, no matter the amplitude or severity. Ford accrued decades of experience tinkering with Watts linkage cars with the Falcon, so the Everest thus-equipped is well-sorted.
Even braking is commendable with a stopping distance of 41 metres. In the Toyota Prado, for example, the nose squats under braking, with longer stopping time.  By virtue of being the easiest and most car-like ladder-frame SUV, long journeys aren't tiresome. Engine noise at cruising speed isn't too bad, but there is a bit of roughness to the engine lower in the revs.
Despite the presence of active noise cancellation via the speakers, the long-stroke five-cylinder has a pretty gruff and unpleasant note. An expected switch to V6 in the next few years should address this. This is only a minor issue, however, as the five-cylinder engine is virtually lag-free, responsive and effortless.
It produces 143kW at 3000rpm, and a strong 470Nm from 1750rpm. We recorded a 0-100km/h time of 11.34 seconds, which is about average for the class. Fuel consumption is quoted at 8.4L/100km on the combined cycle, but our effort of 10.0L/100km is pretty good, considering mostly urban driving conditions.

2017 Ford Everest Trend – THE VIDEO
2017 Ford Everest Trend – THE VERDICT
Although many rivals undercut the Everest for price and value, it has an extra layer of polish and premium feel that they can't compete with. It looks tougher, feels more car-like and has a better interior, plus a level of grunt they can't compete with. If you can stump up the extra money you are getting a superior car in many ways. Those in pursuit of more a car-like experience should wait for the Edge (or whatever it ends up being called), coming next year.
PROS:
– Tough looks
– Excellent sound system, navigation
– More premium-feeling interior than rivals
– Comfort
– Excellent road manners for a vehicle of this type
– Third row easier to access than some rivals

CONS:
– Quite a step-up in price from rivals
– Gruff five-cylinder note at low to mid revs
– Distracting, overly complex SYNC 3 media interface
As always, if you're thinking about buying a new car don't forget to click here to speak with our car buying specialists.