It seems Ferrari is still test driving and fine-tuning the new 488 GTB (458 successor) at the Fiorano home grounds in northern Italy.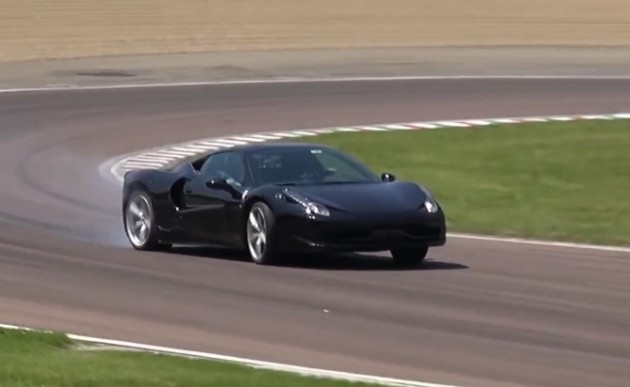 Yes, we know, the 488 GTB has already been unveiled, but it isn't quite on sale yet though. It features an all-new 3.9-litre twin-turbo V8 thumping out 492kW of power and 760Nm of torque. The engine is matched to a seven-speed dual-clutch auto with rear-wheel drive.
A video is trending at the moment showing engineers giving the car a hard drive on the circuit. The engineers are probably configuring the differential setup and the power and torque curves of the new twin-turbo V8 powertrain.
Ferrari doesn't usually do turbocharged engines, so for this latest model the company is going to want to make sure it doesn't upset any of its loyal clientele by creating a V8 monster with turbo-lag. Ferrari has even gone to the length of developing a variable torque management system for the car so it delivers a smooth and progressive torque ban, similar to a naturally aspirated engine.
Australian prices for the new model are yet to be announced, but it is set to go on sale later this year. Click play below for a taste of what to expect. It's good to hear Ferrari has retained a classic engine note with the new unit.