Toyota has released the details on its groundbreaking new zero emissions hydrogen-electric sedan, the Toyota Mirai. It will become a regular model in the company's international showrooms next year.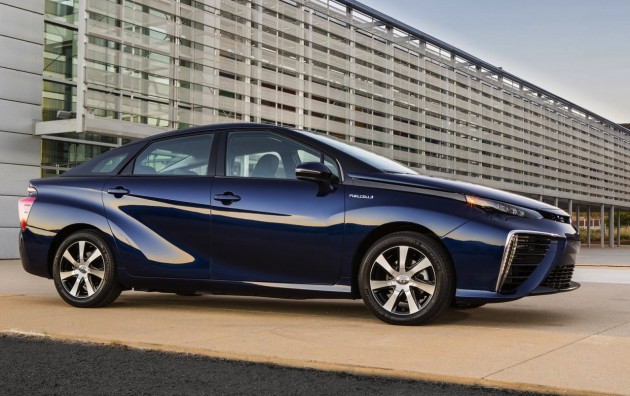 Set to be unveiled at the upcoming Los Angeles motor show, the Mirai, Japanese for 'future', packs a 100kW punch from its combined hydrogen fuel cell and electric motor. The powerplant is based upon Toyota's existing hybrid platform, replacing the petrol engine with a hydrogen fuel cell, which produces no carbon dioxide.
Hydrogen, stored under pressure in two tanks at 10,000psi, is fed into the fuel-cell stack where it is combined with oxygen to create a chemical reaction that produces electricity to power the vehicle. Refueling is said to take only 3 minutes, as opposed to several hours for a purely electric vehicle.
The bodywork with all its lines and sharp creases has been styled by science, with an emphasis placed on cooling the hydrogen fuel cell and minimizing the drag-coefficient. This has resulted in an impressive range of around 500kms per tank. Toyota's global president, Akio Toyoda said:
"Our fuel cell vehicle runs on hydrogen that can be made from virtually anything, even garbage. It has a fuel cell that creates enough electricity to power a house for about a week."
Weighing in at 1850kg, the Mirai won't be competing for the hearts of the performance drivers out there, but it's zero-emissions calling card is sure to impress the more environmentally-conscious buyer.
The Mirai could be a massive hit for Toyota, coming during a time where lessening emissions is becoming more important than ever for manufacturers to meet global agreements.
The Mirai hits the market in Japan next month, followed by Europe and North America in 2015. For the time being Toyota has no intention to bring the Mirai to Australia due to the lack of existing hydrogen distribution infrastructure, which has proven itself an expensive and complicated process in the past.