A spectacular but also very unfortunate Ferrari 599 GTO crash has been caught on camera in Singapore. The driver sadly lost his life in the accident, after going through a red light.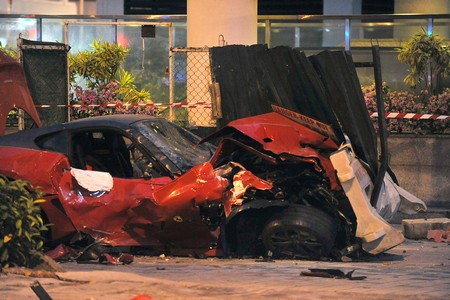 According to reports, the Ferrari 599 GTO was travelling at speed and went through the red light at an intersection on Rochor Road and Victoria Street – a known black spot for vehicle accidents.
The driver, a Chinese financial investor named Ma Chi, sadly died at the scene. A passenger of the taxi caught in the crossfire also died, with a motorcylcle rider and two other passengers – including a passenger in the 599 – were seriously injured.
The Ferrari 599 GTO is the fastest 599 you can buy. It comes with an array of very high performance features, including a 493kW 6.0-litre V12 engine. Just 599 examples were built.
Certainly not for the fainthearted, the video shows just how serious the consequences can be for going through a red light.
(Image courtesy of asiaone)