The new Bugatti Chiron hypercar is edging ever so much closer, and to further build anticipation the company has started a countdown timer to its reveal.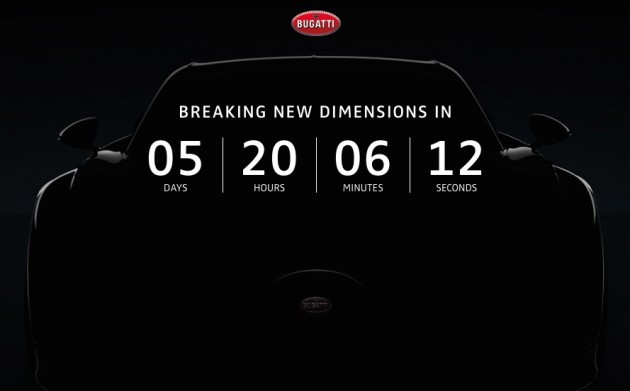 As seen on the Bugatti website, the timer gives us official confirmation the new car will be unveiled at the Geneva Motor Show which starts next Tuesday. Excitement levels don't get much higher than this, as the Chiron will be the successor to the almighty Veyron.
Like the Veyron, the Chiron is set to break a number of world records in terms of production cars. We can expect it to offer the highest power output ever, with speculations suggesting a maximum of around 1100kW, or 1500hp in old-fashion speak.
This is all set to come from an 8.0-litre W16 engine like in the Veyron, however, instead of four exhaust-driven turbines there's speak of electronic turbochargers being used this time around. Such technology could help the beast build boost even more quickly.
As a result of the colossal power – whatever the final figure ends up being – the top speed is likely to break another record. Word has it we could be about to welcome a mind-blowing speed of around 460km/h. The old Veyron Super Sport (1200hp) could manage 431km/h.
Again, like the Veyron, production is expected to be limited, with around 100 vehicles to be built per year. A total of 500 has been mentioned in the media, but Bugatti is yet to confirm. We won't have to wait long now anyway. All will be revealed on March 1.