Hyundai Australia has announced some updates for the 2014 Hyundai i40 sedan and wagon. Although the update is only part of a minor facelift, the 2014 version comes with all-new technologies to help boost the mid-sizer's practicality and user-friendliness.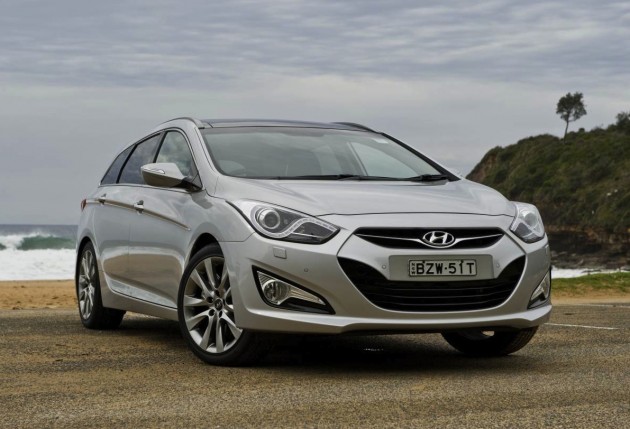 There's two main tech updates for the 2014 model, including a Drive Mode Select system and a Smart Tailgate function
The Drive Mode Select system gives the driver three driving modes which all have different settings for the transmission and power steering. The Normal setting is, as the name suggests, for normal day-to-day conditions.
The Eco mode puts the transmission into a maximum efficiency setting, changing gears at the optimum time to conserve fuel.
For those more energetic driving stints, the Sports mode backs off on steering assistance for a meatier and more connected feel, while the transmission is put into a setting that allows the engine to rev out higher before it up changes.
As for the Smart Tailgate, this is Hyundai's automatic hands-free opening function. All the operator has to do to activate the tailgate is stand around 50-100cm behind the tailgate for three seconds with the proximity key in their pocket. A warning alarm sounds and the hazard lights flash momentarily.
The system can be switched off in the 'User Settings' within the in-car dash cluster. It can also be cancelled at any time by pushing any of the buttons on the key fob.
Other updates for the 2014 model include a range of new alloy wheels in 17 or 18 inch guise. There's also a 'shark fin' antenna on Tourer Elite and Premium variants.
Pricing remains unchanged from the outgoing model. See below for the full price list (excluding on-road costs):
Sedan
2014 Hyundai i40 Active 2.0 GDI manual – $29,990
2014 Hyundai i40 Active 2.0 GDI auto – $31,990
2014 Hyundai i40 Active 1.7 CRDI manual – $32,590
2014 Hyundai i40 Active 1.7 CRDI auto – $34,590
2014 Hyundai i40 Elite 2.0 GDI auto – $36,990
2014 Hyundai i40 Elite 1.7 CRDI auto – $39,590
2014 Hyundai i40 Premium 2.0 GDI auto – $42,990
2014 Hyundai i40 Premium 1.7 CRDI auto – $45,590
Tourer wagon
2014 Hyundai i40 Active 2.0 GDI manual – $31,990
2014 Hyundai i40 Active 2.0 GDI auto – $33,990
2014 Hyundai i40 Active 1.7 CRDI manual – $34,590
2014 Hyundai i40 Active 1.7 CRDI auto – $36,590
2014 Hyundai i40 Elite 2.0 GDI auto – $38,990
2014 Hyundai i40 Elite 1.7 CRDI auto – $41,590
2014 Hyundai i40 Premium 2.0 GDI auto – $44,990
2014 Hyundai i40 Premium 1.7 CRDI auto – $47,590