Mercedes-Benz has released a teaser video previewing the new 2014 Mercedes-Benz E-Class. The next-gen model is set to come with all-new panels, except for the doors and roof, and plenty of more intricate styling highlights.
The first thing the company wants you to notice about the new model are the headlights. These will be single unit items, as opposed to the current twin-unit setup. As you can see in the teaser video, the lights feature a set of 'eyebrows' that are similarly highlighted like the BMW 'halo rings', and are made more prominent with LEDs indicators.
Earlier this month an image surfaced online showing, what appeared to be, a fully undisguised 2014 E-Class. The headlight design seen in the official video seems to fit perfectly with those on the model spotted (below).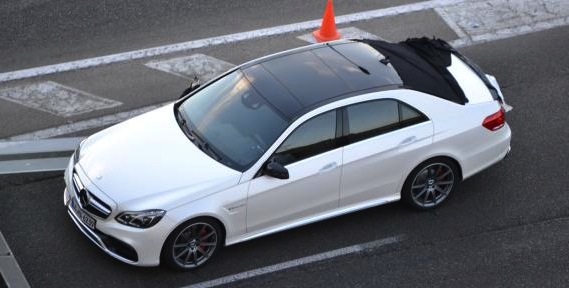 As for engine specifications, official details are yet to be revealed. It is believed most of the current lineup will be carried over, however, the company is said to be working on a new 3.0-litre turbocharged V6 petrol engine which may replace the current 3.5-litre naturally aspirated V6, seen in the E 350. Power is pitched to be around the 250kW mark.
The top-spec E 63 AMG is likely to remain fairly similar to the current model, in terms of the hardware under the bonnet. The main change that may occur is the introduction of an all-wheel drive system.
The 2014 E-Class is expected to be fully unveiled at the 2013 North American Auto Show in Detroit, starting January 14. We'll keep you updated with all the details.
Click play below to check out the teaser in the meantime.