BMW has announced details of the new 2012 BMW 6 Series Coupe variants, including the 2012 BMW 640d, the 2012 BMW 640i and the 2012 BMW 650i, all boasting turbocharged engine performance.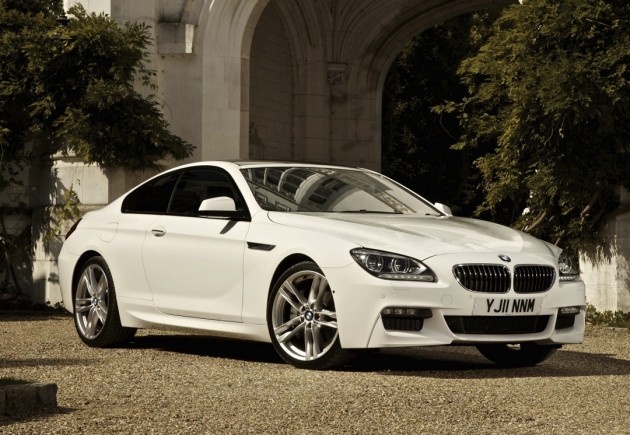 The biggest change to the all-new 2012 BMW 6 Series Coupe range is the inclusion of the new performance 2012 BMW 640d Coupe twin-turbo-diesel. Using a 3.0-litre twin-turbo diesel developing 233kW (313hp) of power and 630Nm, it's able sprint from 0-100km/h in 5.5 seconds. This makes it the quickest diesel vehicle in BMW's lineup.
Next up is the new 2012 BMW 640i Coupe. Although the '40i' in the badge name could refer to a possible 4.0-litre engine, it's just the name BMW has given to the revised 3.0-litre TwinPower turbo engine. The popular unit produces 239kW of power (320hp) and 450Nm of torque (up 50Nm compared with current BMW models which use a similar engine). The new BMW 640i is capable of sprinting from 0-100km/h in 5.4 seconds.
For the flagship variant in the new 2012 BMW 6 Series Coupe range, BMW has introduced the BMW 650i Coupe. Like the convertible variant of the same name, the Coupe comes with a 4.4-litre twin-turbo V8 petrol engine developing 304kW (407hp) of power and 600Nm of torque. It's able to smash 0-100km/h in 4.9 seconds – not far off the previous model BMW M6 (4.4 seconds).
All models will come with an eight-speed Sport automatic transmission as well as a new fuel efficient EfficientDynamics technology called the ECO PRO mode. This enables the driver to select between different driving modes to suit either fuel efficient driving or sports driving. Modes are selectable through the Drive Dynamic Control button inside the cabin.
The new 2012 BMW 6 Series range will go on sale, in the UK at least, on October 15. Specific Australian release dates are yet to be announced, but it is scheduled to go on sale some time during the first quarter of 2012. We'll keep you updated with full local specs and prices.