A valet driver in Rome has crashed a Ferrari 599 GTO into a shop window after confusing the brake pedal for the accelerator. Tensions between the Dutch and the Italians have never been higher.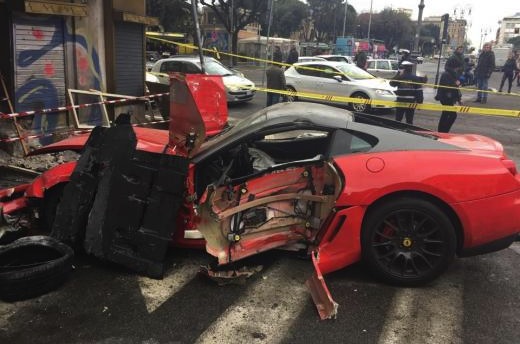 The Ferrari 599 GTO is owned by a Dutch tourist who was travelling through Rome, on his way to a Ferrari Owner's Club Rally in Anzio, just south of the capital.
The keys were handed over to a 38 year-old Italian valet attendant, Roberto Cinti, who was meant to park the one-of-599 limited editions into a secure parking space. Instead, he kindly ploughed the V12 supercar into a shop front, causing irreparable damage.
"I got confused – instead of the brake, I pressed down on the accelerator," the Corriere della Sera newspaper quoted Mr Cinti. The Ferrari's semi-automatic transmission was also to blame, according to Mr Cinti.
To give you some background on the significance of the car, the 599 GTO is a very special edition that pays tribute to the only other GTO models ever made; the 1962 Ferrari 250 GTO and 1984 Ferrari 288 GTO. It features a 6.0-litre V12 engine producing 493kW, capable of 0-100km/h in just 3.3 seconds.