How's this for a custom Kombi? It's a special build project by coachbuilder Fred Bernhard called the Volkswagen T1 Race Taxi, made specially for the Worthersee event in Austria.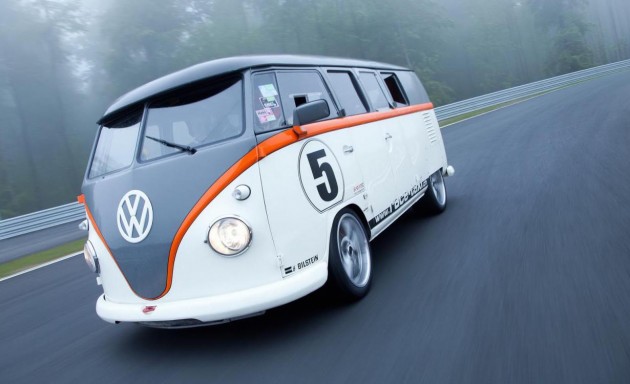 Based on the original T1 Volkswagen, the car has been completely refurbished and now stands in a cool retro three-tone theme. There's colour-coded bumper bars, sliding side windows, along with all original trimmings.
The best part about it though is what's in the engine compartment. No longer is the old clattering air-cooled flat four. You see, Bernhard has managed to squeeze in a Porsche 911 Turbo flat-six engine, from the 993 series.
It's been tuned as well, with two new turbochargers helping the unit to pump out 390kW of power and 757Nm of torque. All that power is sent through a six-speed manual transmission which is sourced from a 996 911 GT3.
Other awesome mechanical highlights include a steering setup from a 993, brakes from a 993, and classic-style 18-inch BBS alloy wheels. Plenty of components are made from carbon fibre too, helping to keep weight down to 1500kg.
Performance figures are unknown but judging by the way the car is photographed on the Nurburgring, it is probably set up to be quite quick in the corners as well as being lightning on the straights.