Ford Australia has announced local specifications and features for the highly anticipated 2015 Ford Mustang, which lands on our shores next year.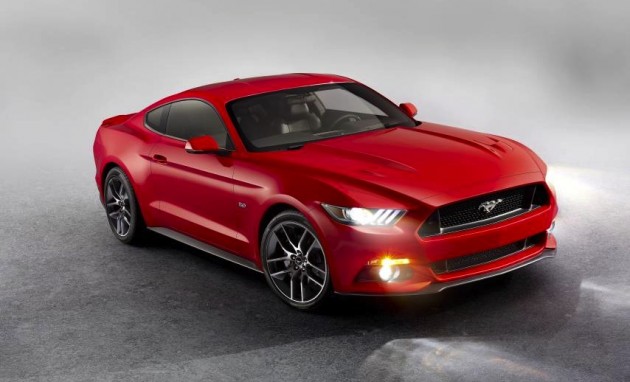 Australia will get two variants in both fastback coupe and convertible forms. The entry level model comes with a 2.3-litre EcoBoost turbo four-cylinder producing 233kW of power between 5600-5700rpm, and 432Nm of torque at 3000rpm.
As for the range-topping GT, it gets a 5.0-litre naturally aspirated V8 producing 303kW of power at 6500rpm, and 525Nm of torque at 4250rpm. These figures are down compared with overseas figures (324kW/529Nm). Ford hasn't provided a reason why the numbers are down but we're guessing it has something to do with brake horsepower measurements and conversions.
Both variants will come with an extensive level of standard features, including the latest SYNC2 on-board computer and 8.0-inch touch-screen multimedia interface, with sat-nav and dual-zone climate control, as well as leather heated and cooled seats for the front (power driver's seat), a rear-view camera, and a nine-speaker audio system.
Ford has put together a simple range with all features standard for both variants. There's also a limited-slip differential, 19-inch black alloy wheels and a tyre pressure monitor, rain-sensing wipers, HID headlights and LED taillights, and a stainless steel exhaust system.
For the V8 buyers the only thing extra you're getting, aside from a V8 engine, is a set of 380mm front brakes with six-piston calipers (up from 352mm, four-piston), and some staggered wheel sizes with 275/40 tyres front and rear (up from 255/40 on the 2.3).
Both models will be available with either a Getrag six-speed manual transmission or an optional six-speed SelectShift automatic with paddle shifters. Ford is yet to reveal local prices. Let's hope they fall well below the $80,000 mark.
UPDATE: Ford Australia has confirmed the power difference for the V8 is not an actual difference in output. It is simply the way the engine power is calculated. US figures (SAE) are calculated from the engine without auxiliaries (air-con, power steering pump etc.) while Australia uses European (DIN) standards that do factor in such component loads.
Please note: vehicles pictured don't necessarily represent the trim of Australian models